Jimi "Posterboy" Manuwa (14-1 MMA 3-1 UFC) may be coming off of the first defeat of his professional career but he still finds himself sitting at number 10 in the overall UFC Light Heavyweight rankings which in anyone's book is a great place to be. Sitting above him is a whole host of MMA Legends including the likes of Jon Jones (#1), Rashad Evans (#3), Dan Henderson (#6) to name but a few. The Light Heavyweight division has always been one of the most exciting divisions for the fans as we get a real mixture of pure knockout artists (Glover Teixeira #2), incredible athletes (Ryan Bader #9) and all around bad ass guys (Mauricio Rua #8).
It was clear from Jimi's last fight that there are areas which he needs to improve on but as Samuel Smiles once said "We learn wisdom from failure much more than from success. We often discover what will do, by finding out what will not do". And Jimi's last opponent Alexander Gustafsson is a living testament of that statement as since his defeat to Phil Davis back at UFC 112, the Swede went on a six fight win streak which earned him at title shot at Jon Jones.
No fight has yet been announced for the Brit who will be as eager as ever to get back into the Octagon and back to winning ways, however, looking at the roster of 205lb monsters the options are endless for The Posterboy. The 205 division is currently sitting at 33 fighters (which also includes some anomalies like Chael Sonnen and Vitor Belfort who have been known to switch between LHW and MW) and here are my thoughts as to who Manuwa could next be matched up with. The below fighters also as of today haven't got a fight lined up so there is every chance that they are available for a bout with Manuwa.
Mauricio Rua (22-9 MMA 6-7 UFC Ranked # 8)
Everyone loves to have a legend on their record and who better than to hold a victory over than "Shogun" Rua. Rua seems to some extent to be the fighter who is used to test out these young gun, up and comers who are on a route to a title shot. I personally think that Manuwa Vs Rua would be a very exciting fight as neither guy tends to rely on taking down their opponents and are a lot more adverse to standing up and swinging for the win. In terms of ranking obviously a win over Rua for Manuwa would be massive and boost him back into the top eight which would then allow him to probably have more of a say as to who he fought next. Shogun is coming off a second loss to Dan Henderson in which he suffered a badly broken nose so in respect of timing for this one it would probably be later in the year and could potentially be used to headline a fight outside of the US. Rua is still on point in my opinion and even though Henderson knocked him out last time round I still don't think that the Brazilian is "past it." He showed that he still holds power in his hand when he knocked out James Te-Huna back in December and he also stopped Brandon Vera back in August 2012 and also in his latest fight with Henderson was arguably winning the first two rounds. Rua does seem to struggle against the more athletic fighters (Alexander Gustafsson, Jon Jones) and this is where I see Manuwa having the real advantage, as well as the speed and power that he possesses. A very intriguing fight in my opinion and probably the one I would most like to see next for Manuwa as I think that he could really do well against Rua and boost himself back up the rankings very quickly.
Ryan Bader (16-4 MMA 9-4 UFC Ranked #9)
Ryan Bader is possibly not the most glamorous of opponents for Manuwa but in my mind is the one who would probably pose him with the biggest threat given his wrestling background. The one advantage that Manuwa would have however is his power and Bader's inability to take big shots (as exploited against both Machida and Teixeira). Speed and athleticism I think I very closely contested between the two so I think the fight would fall down to the classic "Wrestler Vs Striker" dual. You would have to give the striking advantage to Manuwa although against Glover, Bader did shock everyone by standing and trading with him and did actually manage to rock Glover. I think it's fair to say that Bader would hold the wrestling advantage and in my eyes has a very similar wrestling style to Kyle Kingsbury who was able to take down Manuwa twice in their fight. I feel that Bader would have more success in the explosive takedowns whereas takedowns from the clinch would be a lot harder for him to win given Manuwa's strength. I wouldn't be surprised if this fight was announced as Jimi's next bout and for me I would love to see it, more so just to see how Jimi would cope with the wrestling aspect and Bader's powerful right hand.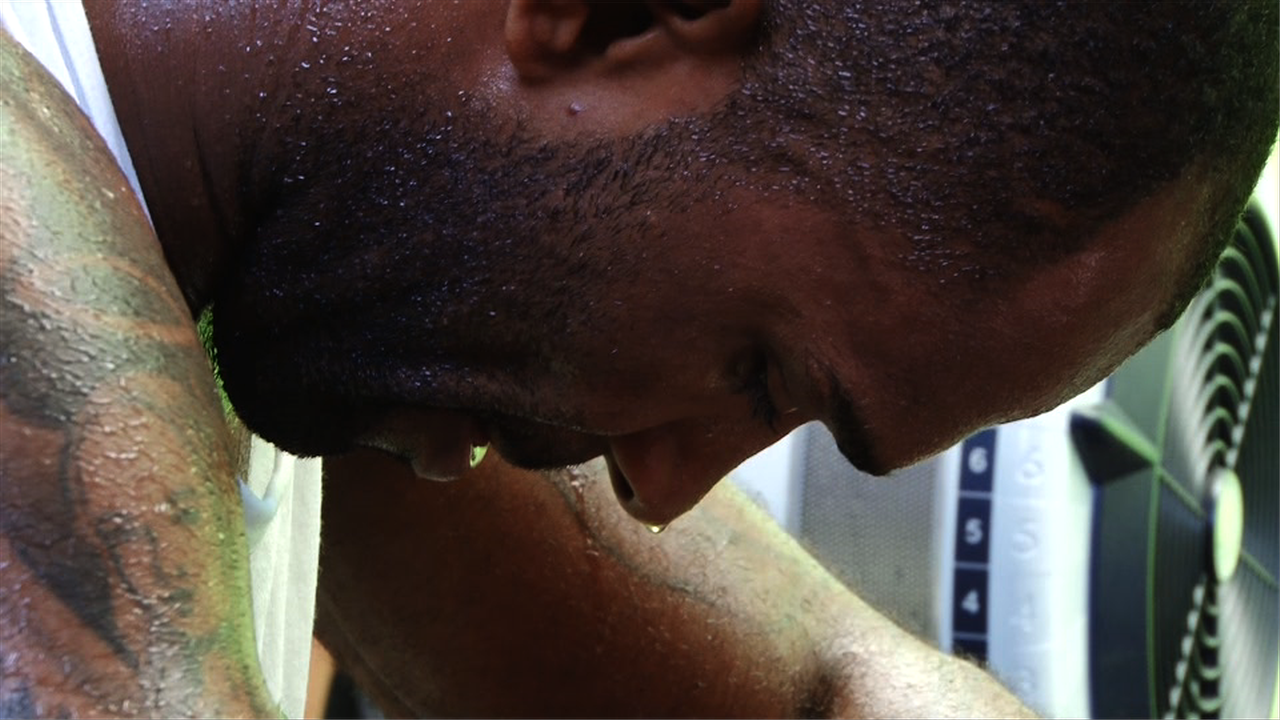 Ovince St. Preux (15-5 MMA 3-0 UFC Ranked #11)
OSP is currently ranked one place behind Jimi in the rankings but I think it would make for a great fight especially given just how good OSP has looked in his last two fights. OSP also holds a very good record so would definitely not be a step back for Manuwa. In fact OSP has won four fights on the bounce since losing a decision to Gegard Mousasi back in December 2011 and all of the four wins have been stoppage wins. For most fighters the step up to the big stage and fighting for the UFC seems to hinder their performances but OSP is one of a select few who have embraced the challenge and looked very impressive in doing so. OSP is slightly taller than Manuwa at 6' 3" compared to 6' 1" but that doesn't equate to a significant difference in the reach, with only 0.5" difference. Intriguingly I think that this fight would make great sense to book and really could be a close fight and a real genuine test for Jimi. Confidence could play a huge factor in the fight and OSP would arguably be the more confident fighter going into that one given Jimi's would be looking to rebound from a loss. If I was a betting man I would pick Jimi for the win though as I feel that his power shots would really hurt OSP who has been known to absorb a fair few shots even in his recent wins. Style wish though this fight really works for me and a win for either in this fight would certainly get the higher ranked fighters thinking about them.
Robert Drysdale (6-0 MMA 0-0 UFC Unranked)
Drysdale was due to make his UFC debut at UFC 163 but had to pull out due to staph infection and subsequently was lined up to fight at UFC 167 but was pulled from that one due to an elevated level of testosterone-to-epitestosterone levels. A fight against Manuwa would be a big test for the world renowned grappler and would test his ability to take a punch but also highlight Manuwa's ability to avoid takedowns and show us his ground game. Manuwa may be a step too high for Drysdale in his promotional debut however and they may feed Drysdale a few lesser known ranked guys before putting him in there with the Lions. For me it would be very intriguing and certainly make Jimi focus more on wrestling and grappling defence in his camp which I think is needed from his side. He struggled against Gustafsson off his back so a fight against a pure grappler would have to see him make some changes in that aspect of his game. Again this fight would fall down to "Grappler Vs Striker" and for me would be too hard to call and perhaps is the least likely fight to happen right now. But if Drysdale makes a big impact in his debut it's a fight which certainly could go down in the future.
Anthony Johnson (17-4 MMA 8-4 UFC Ranked #14)
How can I go through this article without including Anthony Johnson, dam I would love to see Manuwa Vs Johnson. Rumble has looked sensational since losing to Vitor Belfort back at UFC 142 and amassed seven wins on the bounce, most recently this weekend against Phil Davis. Johnson's striking is spectacular (and always improving thanks to his teammates at the Blackzillian's) as is Manuwa's and for the fans a striking matchup between these two would be fireworks. But I think realistically Johnson would revert to his wrestling and try to win the fight on the ground as he did last weekend. As I have discussed above the question would be whether or not Manuwa would be able to stop the takedowns of Johnson and keep the fight standing. Looking into the stats (many thanks to fight metrics) surprisingly Manuwa holds the better offensive stats on a striking basis. Jimi lands 4.26 significant strikes compared to 3 per minute from Rumble. Jimi also has a greater significant striking accuracy at 63%. Johnson is less likely to be hit though and holds a 67% defence rate (% of opponents strikes that didn't land) compared to Jimi's at 39%, so would be interesting to see if Jimi could actually land any strikes on the elusive Johnson. If the UFC are looking for fireworks then by all means this fight needs to happen but for Manuwa I think he may be overlooked as Rumbles next opponent given that Rumble just beat the 4th ranked guy in the division. Crazier things have happened though.
Well there is my breakdown of five potential opponents for the Posterboy. Hope you have enjoyed and I am very interested to get your views on potential matchups so if you want to get in touch give me a shout on twitter @mmanarchy
Given that UFC 172 went down at the weekend the rankings are likely to change but this article is based on the following fighter rankings taken from ufc.com on Monday morning 28th April.
Champion Jon Jones
1 Alexander Gustafsson
2 Glover Teixeira
3 Rashad Evans
4 Phil Davis
5 Daniel Cormier
6 Dan Henderson
7 Chael Sonnen
8 Mauricio Rua
9 Ryan Bader
10 Jimi Manuwa
11 Ovince Saint Preux
12 Rafael Cavalcante
13 Vitor Belfort
14 Anthony Johnson
15 James Te Huna