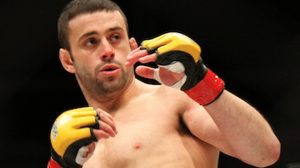 Ahead of Cage Warriors 59 WHOA! TV's Emma Bramford caught up with Lew Long.
EB: Your last fight for Cage Warriors was at The Motorpoint Arena, Cardiff, against Mark Glover, which was great to watch, we got to see a different Lew, more focused and not getting drawn into Mark's own game plan that night, what was your own personal highlight from that fight?
LL: Probably my head movement, I felt like something out of the Matrix!
EB: In your last fight with Mark Glover you said "I can take a fight anywhere, but I knew he wanted to stand, so I decided to showcase what I've been working on."  Was this in reference, to you working with 'The Locket Man' Gary Locket?
LL: I've always been a striker, Glover gave me the freedom of me not having to worry about defending the take down so I can use what Gary has worked on.
EB: This is will be your 3rd outing under the Cage Warriors promotion and also your 3rd time fighting on home soil do you consider yourself pretty lucky to be still having the home crowd advantage?
LL: Almost all my other fights have been fought in wales, I love fighting in Wales, what fighter does not like having a home advantage!
EB: You will be facing Tommy Maguire on September 14th at The Motorpoint arena, Cardiff for Cage Warriors 59, would you say this is your hardest fight to date?
LL: Don't know, haven't fought him yet, but if i win it would be my biggest scalp, if that's what you mean!
EB: Is there anything different that you are implementing into this training camp for Tommy Maguire or are you just training like you usually would?
LL: My BJJ coach Rob Tylor just got his black belt, that's the only thing that has changed really. Congrats Rob.
EB: Coming from a Judo and Wrestling background do you feel this puts in a good position to showcase your ground skills with Tommy Maguire?
LL: Depends if he can take me down, Judo and wrestling techniques are usually fought from standing and the clinch, so if he can't take me down I highly doubt that you will see my ground skills.
EB: What can the fans expect to see on the night?
LL: 12+ fantastic fights; Featherweight Title Fight; 4 man bantamweight tournament to decide the new champion…..and myself of course.
EB: Anyone you would like to thank?
LL: No, I always forget someone and they always complain, they can f**k off this time.
5 Quick questions
If you could change 1 rule in MMA what would it be?
I'd love to be able to head butt.
Favourite International Fighter
Chael Sonnen
Walk out music
Depends how I feel on the day
Favourite Food
Chinese
If you were to hold a dinner party and invited 3 guests past or present, who would you invite and why?
Two is company three is a crowd, I eat alone!