The UFC released a major teaser earlier today via their instagram. A simple image (see below) which is clearly an Irish crowd  with "322 Days Ago" over it along with the message "You've 322 days. 15 more to go. Announcement coming. Weds July 1st."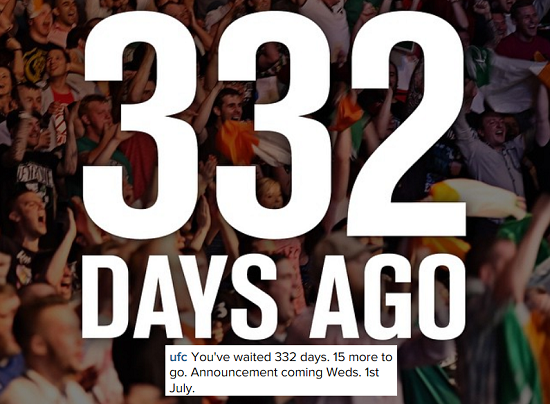 It has been rumoured that the UFC were planning a return to the Emerald Isle this September or October and this all but confirms that the UFC are certainly coming back this year.
Alan's Angle: If Conor McGregor wins July 11th then I highly doubt he will be competing in Ireland next, it simply does not make financial sense for the UFC to put one of their biggest draws in a stadium that fits just 10,000 people and in a different time zone. However, if he loses to Aldo you can guarantee he will be the main event, depending on damage sustained, as he would be looking to make a quick turn-around. Regardless of McGregor's involvement it will certainly sellout.