BJ Penn appeared on 'UFC Tonight' last night and has made headlines today with his comments and teasing a possible return to MMA.
The former two-weight UFC champ last fought in July, 2014 against Frankie Edgar. He brought in Mike Dolce for that camp in order to help with his weight as it was his first time fighting at featherweight. Penn just didn't show up in the fight and it left many people disappointed when Edgar easily picked him apart.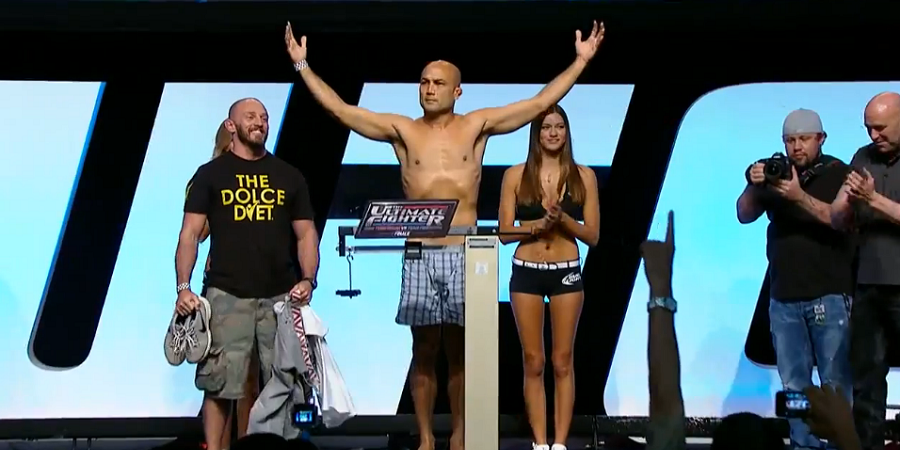 After the fight Penn had put some of the blame on Dolce's diet and the two engaged in a rather public spat. It left a sour note on Penn's hall of fame career and now it seems 'The Prodigy' could be making a comeback and Dolce is acting as an inspiration of sorts.
"I'm sick and tired of hearing about Mike Dolce. You know what Mike Dolce, I'll put a challenge out right now, you go grab Nik Lentz, that's your boy, bring him down to 145, I'll run right through him in one round and then I'll find you in the back and I'll smash you. Let's do that right now. I'm ready."
Mike Dolce wants to say all this stuff. I don't train, I don't do this and that, let's do this. Bring him (Lentz) down to 145, and I would come out for that."
Alan's Angle: I would take everything with a grain of salt here. However BJ is still relatively young at 36-years-old and given the disappointing Edgar fight so I wouldn't rule a return out, for one last fight at least.
However, Penn's last win came in 2010 when he beat an aging Matt Hughes. Since then he had a draw against Jon Fitch but was then destroyed by Nick Diaz and Rory MacDonald before being easily taken out by Frankie Edgar.
But as the old cliché goes: a motivated BJ Penn though….