On Saturday night in Australia, Stipe Miocic bludgeoned Mark Hunt for five rounds to an impressive fifth round stoppage over the PRIDE legend. However, as impressive it was, it seems that there are two sides to the story for a very vocal majority.
Should the fight have been stopped earlier?
There were glaring moments in the fight, especially when Hunt was taking numerous unanswered shots in the third frame, that the referee could have stepped in, but Hunt being, well, Mark Hunt survived the onslaught.
However, at what point should a referee stop a fight due to accumulative damage? It's a tricky one because these are fighters in the cage. Fighting is their profession and it's in their nature; they will fight every decision.
Referees are reluctant to stop fights based on this factor also, which is wrong. Scrutiny is in the job description of a referee, it may not be in the title but it surely must be in the fine print, but, unfortunately, referees don't want to be the target of it. It's quite understandable. Nobody wants to be a target, but a referee needs to be decisive and willing to make the difficult decision.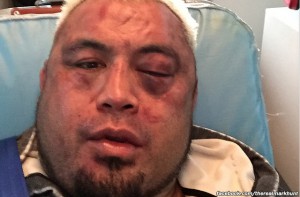 Finality is ingrained in the mixed martial arts culture. It's the holy grail. When a fight is stopped, we want the stoppage to be as clean as possible: a submission or a knockout.
That culture needs to change. Finality isn't everything.
Don't get me wrong, the fighter should be given as much of a chance as possible to survive and win the fight, but there should be a cut-off point. There needs to be a cut-off point.
Asking Mark Hunt if he can continue is a rhetorical question, because in his eyes of course he can.
However, it shouldn't be up to the fighter. It's a very difficult decision for a referee to deem a fighter to be out of a fight when that final blow hasn't yet landed. However, refereeing shouldn't be easy. You need to make those big decisions; and if a fighter like Mark Hunt is being beaten from pillar to post, the referee should be willing to take the potential scrutiny by saving the fighter from himself, even if that final blow hasn't quite landed.