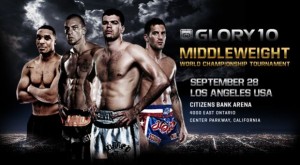 It's fight week and with GLORY 10 rolling into Los Angeles this weekend WHOA! TV's Shar Williams takes a look at what's on offer from the premiere kickboxing organisation.
Sanny Dahlbeck vs Andy Ristie is probably one of the most anticipated match-ups of the LA event.  Dahlbeck, the up and coming young Swede who rocked the arena at Glory 3.  Displaying style both in and out of the ring, the twenty-two year old Dahlbeck is well rounded displaying good boxing as well as the ability to incorporate the use of knees and kicks.  Dahlbeck will need more than a good offense when he takes on the fast and furious fighting style of "The Machine". 
Ristie, who is one of the taller middleweights frequently has been known to use those long limbs in a frenzied attack against his opponents and is known for going into a bout looking for an early knockout. The question in this match-up is whether Dahlbeck will be able to counter Ristie's speed, strength and use of an orthodox style.   
Also appearing on the Glory 10 card are Americans Randy "Boom Boom" Blake and Brian Collette.  Blake, known for his participation in the World Combat League and the XFL is also known for his lightning fast speed and use of kicks and knees to bring his opponent down. As a young up and coming fighter in GLORY, Blake brings with him an impressive record of KOs that is sure to present a challenge to Collette in the ring.  Collette, the heavy hitter from Virginia has an equally impressive record of KOs – sixteen and counting.  
This young brawler has recently come to public notice after his impressive performance and second place finish in the Road to Glory series.  A big question here is whether Blake's speed will help him to evade the heavy and unyielding hands of Collette.  Whatever the outcome of this match, Collette and Blake are sure to be names we all will continue to hear in GLORY and the kickboxing community for years to come. 
With Jordan Watson out of the fight with Albert Kraus, "The Hurricane" now faces American, Ky Hollenbeck. As most will remember, Hollenbeck last appeared in Glory 3: Rome.  At that time the young American faced the force of nature that is Giorgio Petrosyan. During this bout, Hollenbeck suffered a knee injury causing the match to end in the second round.  Of the two fighters, Kraus is the more aggressive man, with heavy hands and a willingness to take charge of a fight, moving forward without fear.  Hollenbeck has demonstrated that he can take a punch but Kraus has heavy hands and a well documented record of taking his opponents down with his vicious right hook or kicks/knees to the body. On paper, here, Kraus appears to be the most likely competitor to win.  This, however is combat sports where anything can happen, just ask Dustin Jacoby. 
Also appearing on the Glory 10 card are matches with Brice Guidon, the French Muay Thai kickboxer who faces Jahfar Wilnis, brother to Jason who is also competing at this event.  In past years Guidon has wins over notable opponents such as Rico Verhoeven, Hesdy Gerges, and Mourad Bouzidi, these wins have come via decision and in matches that have been too close to call.  
Guidon has had three consecutive losses recently in his affiliation with Glory, most recently to Daniel Ghita at Glory 9 in New York.  In order to continue to be considered as a top caliber fighter, Guidon needs the win against Jahfar Wilnis. Fellow French knockout specialist, Johann Fauveau faces Hinata Watanabe.  
This is Watanabe's first appearance on the GLORY stage but, could provide a opportunity for win number two for Fauveau who defeated Costel Pa?niciuc at Glory 5 in London.  Also appearing is 5thranked Karapet Karpetyan who faces the stoic Alexander Stetsurenko. This will be Stetsurenko's first appearance at a GLORY event by undoubtedly not his last.  In past bouts, this Russian has shown not only the ability to deliver devastating blows, but to take one or two as well.
With all the excitement expected to be delivered by the Superfight match-ups could this event get any better? Of course it can afterall it's GLORY and Robin van Roosmalen is set to take centre stage.