Despite the fact the Mixed Martial Arts is still in its infancy, and has only been around just over 20 years, it has a long and colourful history with the law. Maybe it is the appeal of 'fighting in a cage' that attracts a certain type of person. With the recent headlines of UFC fighter Thiago Silva and kickboxer Badr Hari both finding themselves at the wrong side of the law.
These recent events have inspired me to list some of the most memorable incidents where MMA folk have had brushes with the law.
Lee Murray
Currently serving 25 years for his part in the Securitas Depot Robbery in which £53m was stolen and has been identified as the largest cash robbery ever in Britain.
Murray was a one-time UFC competitor defeating Jorge Rivera at UFC 46 in 2004. Visa issues were the reason why he never competed in the promotion again. Later in 2004 Murray had his last and his most famous fight where he brought Anderson Silva all the way to a decision in the Cage Rage promotion.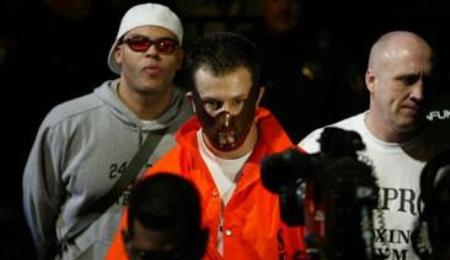 James Ladner aka The Just Bleed Guy
It has been over 16 years since a man in the bleachers defined a generation of MMA fans. The year was 1997, the event was UFC 15 (pre-ZUFFA) and right as Bruce Buffer was about to announce Mark Kerr's fight the camera cut to the, now legendary, "Just Bleed Guy" in the crowd.
He is the MMA version of the Techo Viking, not much was known of this guy until it was revealed that he was arrested in the mid-00's for receiving stolen goods. It was said that his release date was in 2013, here's hoping that he might just show up to another UFC event in the future.
Alexander Gustafsson
A relatively quiet and nice guy, Gustafsson was heading down the wrong path in life before MMA. He was sentenced to prison in 2005 at just 18-years-old for aggravated assault and got out the following year. He then made his professional debut in 2007 and is now one of the biggest names in MMA in the world.
Josh Rosenthal
He officiated some of the biggest fights in the UFC and referee's are figures that are looked up to in the MMA world (unless you're Steve Mazagatti), so when news broke of Rosenthal's troubles it shocked everyone. A warehouse he owned was found with marijuana plants worth an estimated $6m. He was sentenced to 37 months imprisonment with 3 years probation and a hefty $100 fine (yes you read right, a $100 fine). It is coming up on a year since he was sentenced.
Charles Bennett
He might not be a name known to most MMA fans but a quick search on YouTube will give you countless of "WTF" videos featuring the man they call "Krazyhorse". He has had a number of run ins with the law on charges from drug possession to false imprisonment to battery. In 2010 Bennett was reportedly 'dropped' by a sparring partner and left the gym only to return with a metal pipe to get some revenge. He was tackled before he could do any damage.
Mike Whitehead
The TUF veteran had a very promising career. He lost one and only UFC appearance to Keith Jardine at UFC 57 but he went on to compete in Affliction, Strikeforce and the IFL, posting a record of 17-2 since his UFC release. It was arguable to say that he deserved another crack at the UFC considering he is now only 32. But not now, he is currently serving a maximum 4 year sentence after a warrant for sexual assault resulted in police finding 50 marijuana plants in his residence.