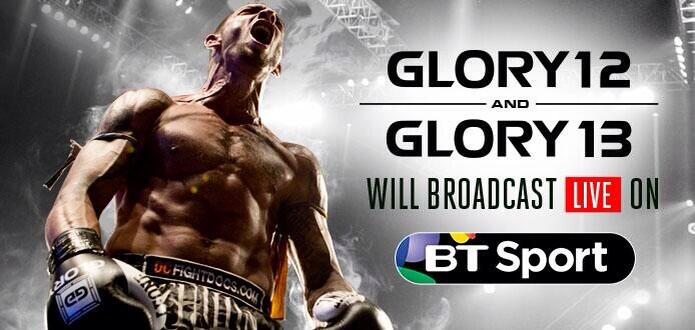 GLORY 12 and 13 now have a new home, BT Sport. It is fast becoming the go to channel for fight sports enthusiasts.  Just the mere fact that the words GLORY and fight card are uttered in the same sentence should be reason enough for you to tune in. Just because I've been asked often enough by those whose usual diet of MMA is never broken I've compiled five reasons why you should tune in
1. In terms of Kickboxing GLORY is the equivalent of the UFC. The production values are first class, attention to detail here are as important as is the quality of the matchmaking. Everything from fighter entrances, camera angles, commentary, lighting and  pre fight VT's set the standard and extoll the brand values of this premier organisation. It's a stalking horse if you will as the action packed events consistently deliver with each and every fight card that appears.
2. The tournament style approach is a brave and at times risky format all of which is usually executed with finesse and aplomb. GLORY 12's Tournament see's the very best of the best in the lightweight division locking horns. You will have the added excitement of Giorgio Petrosyan who, I feel, is the best pound for pound Kickboxer on the planet. A smart and extremely explosive fighter, Petrosyan is my tip to win the Tournament but it will not be a cake walk by any stretch of the imagination. He is beloved by his country of Italy and it was an incredible spectacle to behold first hand and ringside 10,000 people urging him on, it'll be interesting to see what support he has in New York.
3. Joe Schilling faces off in the main event against Wayne Barrett both are unbeaten in their previous appearances on the promotion and as they are both orthodox fighters I'm anticipating nothing short of fireworks. They each have an insanely high work rate, stalling is in neither mans nature. It'll be interesting to see how Schilling, coming off the back of winning the 2013 GLORY Middleweight Tournament, fares against the trailblazing newcomer to kickboxing and former Golden Gloves boxer Barrett.
4. It's your chance to see someone get crazy paid. Training camps can be expensive and in the end some are fruitless. When the amount you invested to get you to the peak of excellence and ensure a win does not pay dividends in the event of a victory, as a fighter it can be hugely demotivating. GLORY have guaranteed the tournament winner will be presented with the princely sum of $150,000.
5. You do not have to shell out hundreds of pounds in flights and accommodation, you can still watch the event LIVE when it airs on BT Sport for the first time ever. 2am is the start time, so stock up on the caffeine. It's a massive coup for GLORY as BT Sport already have a growing fan base among combat sports enthusiasts who tune in religiously to enjoy the UFC and it's flagship magazine show 'Beyond the Octagon'.
If GLORY had one failing it would be that it lacks a front man. For such a large entity whose brand values are not that clear cut it needs someone to enthuse, promote and let you know what you are missing if you do not get involved. The charismatic, funny and personable Bas Boon gets my vote for a role that's desperately needed. He's perfect as both promoter and embodiment of what GLORY as a  promotion should continue to be, no nonsense, straight to the point and consistent.