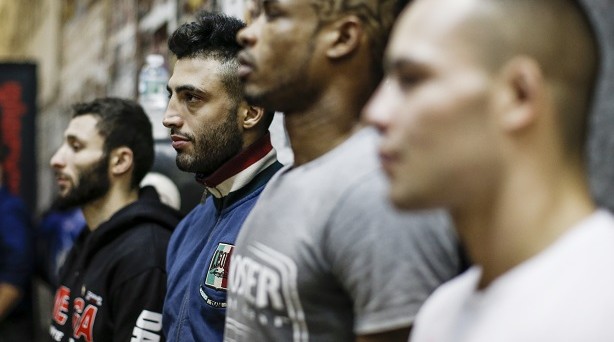 All year long GLORY has treated us to great events in the US, many of which had surprise endings. Well, On Saturday, November 23rd, GLORY came back with another banger of a show this time at New York City's Madison Square Garden.
In Los Angeles we saw the middleweights with Cant Stop Crazy's Joe Schilling emerging as the victor. Next, on October 12th was a meeting of the heavyweights in Chicago, with dark horse, Rico Verhoeven emerging victorious.  In New York City, Saturday night, Andy Ristie took the crown as king of the lightweights.
As usual, GLORY was full of suprises beginning with the brutal knockout of Mourad Bouzidi by Brazil's Saulo Cavalari.   Later, his fellow countryman, Thiago Michel took the stage demonstrating his mastery of spinning back fists, elbows and knees in his win against Paul Marfort. Francois Ambang devastated Georgia native, Eddie Walker with brutal kicks inside and out and the always amiable Jhonata Diniz dropped Igor Jurkovic in round one.  The superfights ended with newcomer Artem Vakhitov defeating Nenad Pagonis via unanimous decision.
The lightweight tourney began with Robin van Roosmalen dismantaling the defense of  Davit Kiria. Next up was a match that initially seemed destined to become another notch on the belt of "The Doctor".  Andy Ristie, however, shocked the world with a round three knock out of Petrosyan. Reservist Ky Hollenback earned a hard fought victory over South Africa's Warren Stevelmans and in the final of the light-weight tourney, "The Machine" out maneuvered and dropped Robin van Roosmalen earning the tournament victory.
The co-main events were the match-ups between Jamal Ben Saddik and Ben Edwards and Joe Schilling and Wayne Barrett.  Early on Ben Saddik seemed to have a handle on the situation only to be toppled like a giant sky scraper by a brutal onslaught of punches by Edwards in the end.  When I spoke to Jamal after the fight, I noticed the cast on his right arm, he told me had broken his arm in round one.  That is a true warrior!  Barrett and Schilling capped off the night with non-stop action. As in previous fights, Schilling came out ready to bang even taunting Barrett at one point dropping his arms as if to say, "Is this the best you got?" Unlike in GLORY 9, Schilling succumbed to Barrett's power and speed.
Great job once again team Glory, next stop, Tokyo.