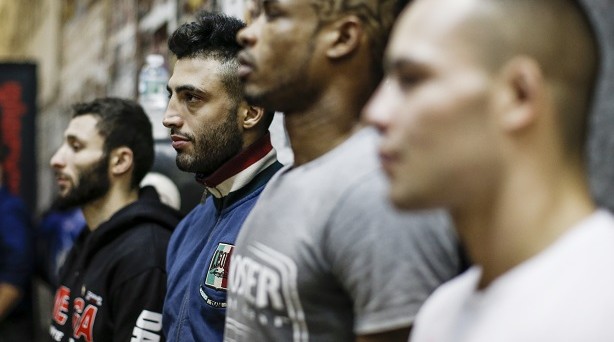 In a night of incredibly skilled violence GLORY 12 delivered the anticipated shock and awe, but in shed loads. From start to finish the promotion let loose a slew of incredible fights on every level…apart from the relatively minor hiccup coming by way of the unforeseen technical issues which meant the broadcast had sound issues at the start.
A night of upsets is an understated cliche when we take a look back at the highlights and  results from the GLORY 12 spectacle.   The favourite, Giorgio Petrosyan, was spectacularly knocked out by the underdog Andy Ristie.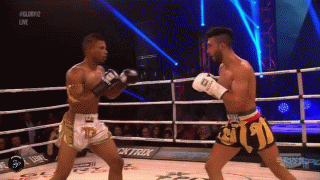 Relative newcomer to the world of kickboxing Wayne Barrett defeated Joe Schilling in one of the most spectacular displays of knock downs, heart and determination seen in the ring this year.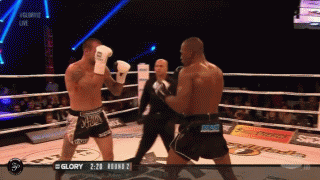 Robin van Roosmalen suffered a similar fate of Giorgio Petrosyan at the hands of the eventual tournament winner Ristie who took home the tournament grand prize of $150,000.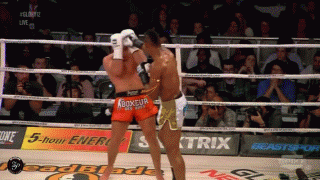 Main Card:
Lightweight Tournament Final – Andy Ristie def. Robin van Roosmalen via Knockout in Round 2
Wayne Barrett def. Joe Schilling via Unanimous Decision
Ben Edwards def. Jammal Ben Saddik via Knockout in Round 3
Ky Hollenbeck def. Warren Stevelmans via Unanimous Decision**
Andy Ristie def. Giorgio Petrosyan via Knockout in Round 3*
Robin van Roosmalen def. Davit Kiria via Unanimous Decision*
Superfights:
Artem Vakhitov def. Nenad Pagonis via Unanimous Decision
Bryan Collette def. Warren Thompson via Knockout in Round 1
Jhonata Diniz def. Igor Jurkovic via Knockout in Round 1
Francois Ambang def Eddie Walker by Knockout in Round 3
Saulo Cavalari def Mourad Bouzidi via Knockout in Round 1
Thiago Michael Silva def. Paul Marfort via Unanimous Decision
Undercard:
Casey Greene def. John King via Technical Knockout in Round 1
Niko Tsigara def. Dominick Biondo via Technical Knockout in Round 1
John Bowman def Villi Bello via via Technical Knockout in Round 3
Alexy Filyakov def Mohamed Fanzy via Knockout in Round 1
Anna Shearer def Andrea D'Angelo by Unanimous Decision
*Lightweight Tournament Semifinal
**Lightweight Tournament Semifinal Reserve Bout