A couple of wake up calls occurred whilst I watched Straight Outta Compton. The first was that there will be those viewing F.Gary Gray's rags to riches story chronicling the rise of NWA, one of the worlds most important rap groups, that look at Ice Cube as that guy who makes comedy movies. Also that Dr Dre is that owner of the Beats headphones empire who cashed in by selling his company to Apple to make himself a near billionaire.
The second being how significant such a beautifully shot master class in story telling was on so many levels. The obvious being the constant reminders throughout of just how rife Police brutality was back in 1988. The significant parallels with recent news reports of Police abuse of power and in certain cases death that have occurred in Ferguson, Cleveland and Texas to name but a few.
The casting is a stroke of genius, having Ice Cube's real life son play him is nothing short of brilliant as are other notable stand outs that exist among a widely unknown cast (even Tyron Woodley pops up here as T-Bone of the Lench Mob). The soundtrack is peppered with not only hits from back in the day from the worlds most dangerous group but also stand out tracks outside of the NWA discography. The photography and cinematography and use of supersaturated colours all bring a loud brashness to the narrative structure that certainly gives the movie it's attitude.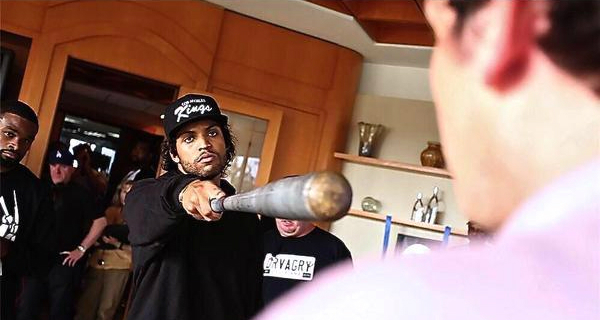 Straight Outta Compton was a great tip toe through memory lane. In the late eighties I was a fan and journalist working for Hip Hop Connection Magazine. I would report on, interview over the phone and finally interview face to face some of the NWA members. I shared those factoids for context because I went into this movie a touch invested in the product but left not entirely satisfied. My first reaction was that I had sat through a bloated (it's a fat two hours and twenty odd minutes long) vanity project bordering on revisionist history especially when you consider that the savage beatdown of 'Pump It Ups' female presenter Dee Barnes by Dr Dre is clearly missing from the storyline.
Yes it has taken the US box office by storm, clocking over $60 million in its opening weekend, but Straight Outta Compton is not flawless by any means. For the purpose of clarity and brevity we centre on Eazy E, Ice Cube and Dr Dre but other group members MC Ren and DJ Yella's characters are left inexplicably underdeveloped so you get a sense that you still don't know the backstories relating to these key members of the group. Also some of the choices for the incidental characters who are crucial to the storyline ie Snoop Dogg and Tupac seemingly flit in and out and their involvement appear a little insignificant. Given what transpired since Dre touched their respective careers a little more attention to detail here was definitely warranted here.
The aforementioned failings of the film are minor, however it would be remiss of me not to mention them. In short Straight Outta Compton is a powerful piece of history which, given the penchant for misogyny displayed by its main characters, is a compelling and indeed a vitally important slice of cinema. F. Gary Gray is an accomplished story teller and this addition to his body of work sits among his strongest projects to date. As the credits rolled I found myself screaming in my head, as you undoubtably will too, 'Damn that shit was dope!'