Over the weekend Dana White was interviewed by the 106.7 radio station in Washington, D.C. and one of the topics that was brought up was CM Punk.
When asked whether or not he would be open to the pro wrestler switching over to MMA and joining the UFC, White replied: "Um. I mean, yeah. I guess if he wanted to fight, I'd talk to him about it." You can check out the interview at Chaddukeswrestlingshow.com.
CM Punk left the WWE earlier this year after supposed creative differences with the brass of the company. Since then the WWE have labelled Punk as being on hiatus.
Punk, 35, is a BJJ practitioner under the Gracie's, trained in taekwondo and is an avid MMA fan who is good friends with Chael Sonnen. He has expressed an interest in considering a fight saying last year to Ariel Helwani, "yes I would like a fight.  I don't think that's going to surprise anybody, and those that think that I don't belong in an octagon, I welcome that.  I welcome anybody who tells me I can't do anything.  It makes me want to do it more."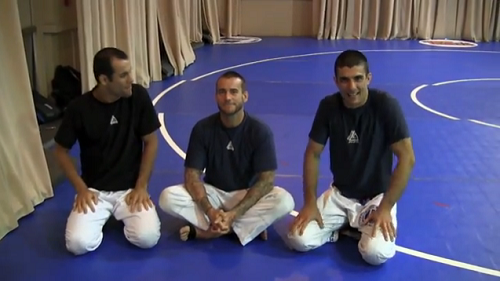 Ariel Helwani caught up with Punk once again in, what has become, their yearly interview straight from the stars home in Chicago. In that interview Punk seemed very aware and under no illusions about his age, experience and about the criticism that would ensue should he make the leap. However he did seem very savvy about the marketability of him fighting.
Alan's Angle: Dana White is not stupid, he knows that the promotion needs these occasional 'big name' fighter that bring in added attention and CM Punk is one of those names, even if it would be for one fight. It is still very unlikely that Punk will compete in the Octagon. Who knows what his contract is like with the WWE and whether he would be free to compete. MMA traditionalist would balk at the idea of seeing the 'Straight Edge Superstar' enter the UFC but they must realise that the UFC is a sport but it is also a business and bringing in people like Punk every so often is great for business! Just look at the impact Brock Lesnar and Kimbo Slice had in terms of bringing viewers and PPV buys.