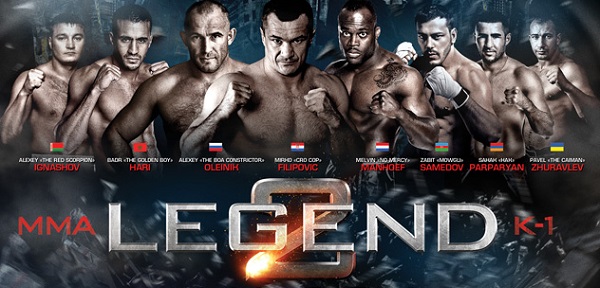 Eastern Europe always seems to put on these exciting shows featuring some of the biggest "free agents" of MMA but, unfortunately, very rarely do they do Western fans get to see these fights on TV or, in most cases, hear about them until after the show happens.
Legend Fighting Show show takes place on Friday evening in Moscow, Russia and it has a night jam-packed with K-1 and MMA action that would excite any combat fan.
The main-event sees legend Mirko Cro Cop (28-10-2-1) take on Russian veteran Alexey "The Boa Constrictor' Oleinik (46-9-1), who stepped in to replace Aleksander Emelianenko. Both men are at the tail-end of their careers and should make for an interesting fight. Cro Cop has won his one and only fight since leaving the UFC while Oleinik has won his past eight fights, which include wins over Jeff Monson and Dion Starling earlier this year.
Paul Daley (33-12-2) will square off against Alexander Yakovlev (20-4-1). This is a fight that "Semtex" should win but this is MMA and anything can happen. One interesting fact that is hard to ignore is that Yakovlev has never been TKO'd in his professional career, although saying that he has never fought anyone of Daley's calibre before.
Dutch fighter Melvin Manhoef is also on the card to take part in a K-1 tournament. Manhoef has a 37(27)-10 record in kickboxing. Other fighters taking part in the tournament are Zabit Samedov 75(34)-10, Sahak Parparyan 48(20)-9 and Pavel Zhuravlev 60(19)-9.
So all in all this should be a really entertaining show!