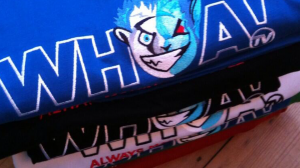 The iconic and mischievous WHOA! TV logo can be yours to own emblazoned across a high quality tee shirt! Yes we are giving these away when we reach 1,000 likes on Facebook. Spread the word invite your friends to like our Facebook page and you could be sporting one of our 100% cotton tee-shirts in a colour of your choice.
There are so many reasons to like our Facebook page above all it's completely FREE, secondly we give away cool prizes regularly but finally and more importantly it's a place for your voice to be heard if you want to comment on breaking news, views and interviews from our talented team of writers.
WHOA! TV is for life, not just for xmas, so join our Facebook page today and you never now, as we will be choosing the recipients of our fantastic tee's at random…it could be you!