WHOATV's Northern Ireland correspondent Marty Corrigan (@MartyDozer) was in attendance at Chaos 14 on Saturday night in Derry. The promotion returned for the first time in nearly a year and brought with it a host of top title fights. Read the full report below.
Pro Lightweight Title
Declan Larkin (Next Gen) def. Gavin Carlin (Rillion Gracie) via RNC, round 1.
Walking to the cage with the support and cheers from his family, Larkin confidently entered the cage. His opponent marched to the cage focused on the task at hand, obviously putting behind him the very tough weight cut he had experienced the day before (note: he didn't make weight). From the start 'The Bandit' looked cool, calm and collected scoring big shots and unsteadying his opponent.
Taking his opponent to the floor Larkin wasted no time and started to reign down elbows which opened Carlin up. On the way back to their feet Carlin landed an illegal elbow in a 12 to 6 motion to the back of the head. This caught the attention of the crowd and the referee who called time and gave The Bandit time to recover.
Circling the ring Larkin took Carlin down with ease and gained his back. Stretching him out Dec used a combination of punches to overwhelm his opponent, allowing him to slip in a deep rear naked choke which forced Carlin to tap.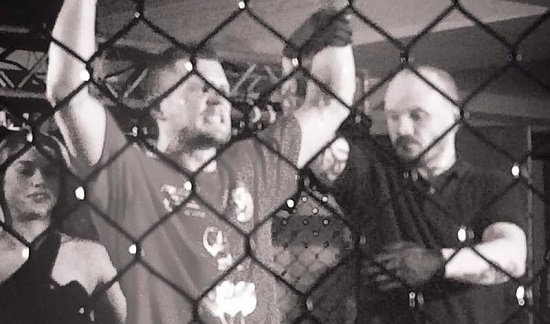 Amateur Featherweight Title
Michael O'Connor (Torres) def. Rhys McKee (IMMA/Next Gen) via RNC, round 1.
McKee came out strong and landed a huge right hand that sent O'Connor to the floor. Perhaps a little too over eager to get the finish, McKee got a little complacent on the ground and allowed O'Connor to regain his composure and, after a battle of the ground, sink in a RNC.
Amateur Bantamweight Title
Frans Mlambo (SBG) def. Arun Radu (Devil FT) via TKO (GnP), round 1.
There was a back and forth exchange early on between both fighters. Radu really pushing to get it to the ground manages to get the takedown. Mlambo remains calm taking orders from his coach and worked his way to top control and started throwing hammer fists. Under pressure, Radu scrambled for the knee while Mlambo exploded with hammer fists Frans, forcing the referee to stop the bout. Paramedics had to aid Arun to his feet. (Title picture)
Amateur Welterweight Title
Ayo Daly (Team Ryano) def. Glenn Irvine (IMMA/Next Gen) via RNC, round 2.
Round 1 saw a lot of work up against the fence for both fighters. Daly managed to score a takedown but Irvine fought for an armbar from bottom. However, Daly escaped but Irvine continued to pressure and took Daly's back. With the hooks sunk in, Irvine fought for the RNC but Daly was saved by the bell.
Round two was a completely different story as Daly came out all guns blazing overwhelming Irvine before getting his back. The Next Gen fights off the RNC but Daly eventually sinks it in (see below).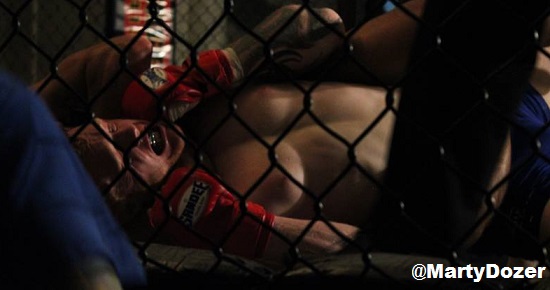 Michael Clarke (Next Gen) def. Caomhan Ward (Evolve) via TKO (GnP), round 3.
After an even first round Ward came out strong in the second scoring a few takedowns and submission attempts. The third was more of the same with more Ward takedowns and submission attempts before a late rally from Clarke. The Next Gen fighter turned the tables, got mount and got the finish for a true come-from-behind win.
Piaras McGarry (IMMA/Next Gen) def. Gerard Ward (Evolve) via armbar, round 2.
First round saw exchanges on the feet before some grappling against the cage. McGarry worked for a guillotine but let it go to get a takedown to close out the round. In the second McGarry got the takedown once more but Ward did well to gain top control. However, McGarry secured a slick armbar from the bottom to get the win.
James Gallagher (SBGi) def. Eamon Clinton (Aesiri) via RNC, round 1.
Huge support for Gallagher here and the Strabane native opens with high kicks. Clinton returns with his own spinning kicks but hits nothing as Galagher proves to be far too quick and agile. The SBG fighter then scores a great takedown and gains full mount. Clinton, in an attempt to escape, gives up his back only to be finished by RNC.
K1- Connor White (IMMA/Next Gen) def. Gerard McKee (Strike) via KO, round 1.
K1- Josh Boyle (Evolve) def. Stephen Harkin (Mayhem) via decision.
K1- Ciaran Loughran (Heat MMA) def. Conan McCloskey (Evolve) via decision.