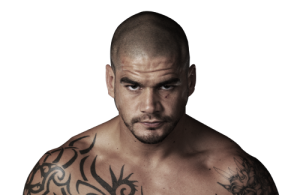 Since leaving the UFC the UK's James McSweeney has had a mixed bag of progress at Light Heavyweight. However, McSweeney has had better success over Darrill Schoonover who he famously clashed with on the The Ultimate Fighter: Heavyweights edition that saw him represent Team Rashad.
With the action being called by Mike "The Voice" Schevello, last night he met Paul Buentello at Legacy FC 22 and experienced what looked like an excruciating defeat via TKO. The finishing blow, a powerful shot to the torso whilst he looked to defend whilst on the ground, will undoubtably be doing the rounds today via various viral means.
The win for Paul "The Headhunter" Buentello who is currently on a four fight winning streak cements his  career high since leaving the UFC and makes him a  likely addition to any of the smaller shows across the US in the near future.