A fight between MMA veteran Brian Ebersole (51-16-1, 1 NC) and Alan Jouban (11-3) was announced during the week for UFC Fight Night 68 in New Orleans on June 6th.
Since arriving in the UFC in 2011, Ebersole has proven to be one of the most entertaining fighters on the roster. From his 'Fight of the Night' battle with Chris Lytle in his debut, to his 'Hairrow' and to his win over Dennis Hallman (who was wearing speedo's at the time). Joking aside, the 34-year-old is 5-2 in the UFC and has yet to be TKO'd in his entire career. He is an encyclopaedia of MMA knowledge and is one of the most experienced fighters in the UFC.
Jouban, a former male model and actor, made his debut late last year and has went 2-1 since with the two wins coming via first round KO's. Overall the 32-year-old has nine via strikes and will be fighting in his native state of Louisiana for the first time since 2012.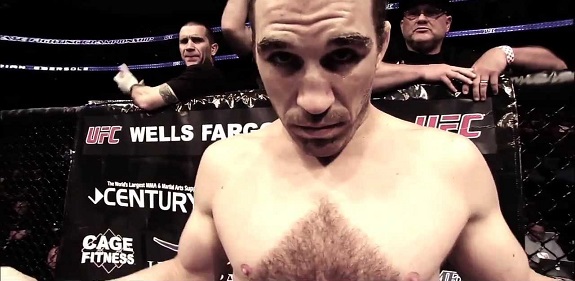 After the fight got announced I sought out a comment from Ebersole regarding Jouban and the fight and this is what he had to say:
"He's tall, tan, and handsome. 

"I haven't seen much of him just yet, but he's a fit kid from all accounts and pushes a good pace. Was robbed in one fight, so he could/should be 3-0 in UFC. Impressive enough, that is. And his last fight, he elbowed my mate in the head, Richie Walsh, who isn't my best friend, but I like him, and I'll enjoy getting one back for him.

"I concede the weigh-in to Alan. He wins. No contest. He's as pretty as can be, and his abs will surely shine. I never really look people in the eye at the "stare-downs" anyway, even with fans when we pose and do the showdown stuff—so that will come in handy, keeping me from getting distracted…..   I don't think I'll be "tempted" to look him in the eye…

"I probably won't notice his handsomeness too much, save the media bringing it to my attention.  If my wife mentions it, it could become a distraction or a major motivator.  Let's hope I don't have to find out, shall we…"