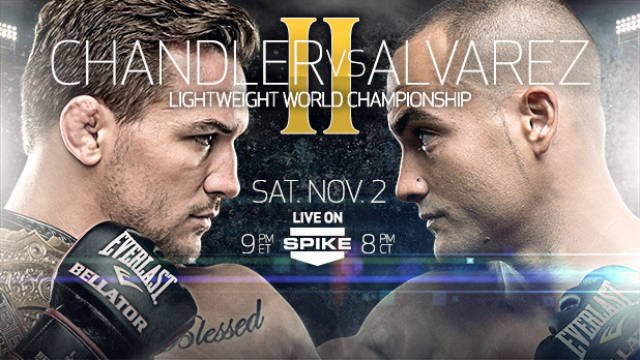 As the UFC takes a break from action this weekend, the MMA focus shifts to Bellator who keep the media and fans busy with a stacked card later on this evening. With Tito Ortiz shocking the MMA world by withdrawing from his bout with Quinton 'Rampage' Jackson due to injury, Bellator took the wise decision to remove this event from pay-per-view and place it on free TV in the US. Wise, not because this card lacks the quality required to be on PPV, but rather that the those competing on the card do not have the required name recognition to the casual MMA fan like Tito and Rampage do, so Bellator would have run the very high risk of looking like a failure on its PPV debut had they chosen to press on with the initial plan. Even without the original main event, tonight's offering is undoubtedly one of Bellator's strongest since their inception and one that features some of the very best talent in the sport. Here's how I think it'll all go down.
Bellator Lightweight Championship:
Michael Chandler vs. Eddie Alvarez – 155lbs.
This pair's first bout was an all-time classic and I implore anyone who has not seen it yet to do so as soon as possible. Alvarez was the one with the title strapped around his waist back in 2011 at Bellator 58 where both men waged war until the fourth round where Chandler dropped Alvarez and was able to sink in a choke to claim victory and his first title.
Since then, Michael Chandler has looked downright devastating in his in-cage exploits with three successive finishes over Akihiro Gono, Rick Hawn and most recently David Rickels. Chandler seems to be getting better and better, and at just 27 years of age he has plenty of time to get even better. People often look at Bellator as an inferior product to the UFC and in many cases they are right, but in Michael Chandler, Bellator have one of the brightest talents in the game and one who could quite happily run riot in the UFC.
While everything has been coming up roses for Michael Chandler of late, 2013 has been somewhat of an annus horribilis for Eddie Alvarez. After Bellator 58, Alvarez got back on the winning track and claimed stoppage victories over Shinya Aoki and Patricky Freire. Having defeated Freire back in October 2012, Alvarez had fought the last fight of his Bellator contract and agreed in principle to join the UFC after seeing out Bellator's exclusive negotiating period. Bellator, however, enacted a clause in Alvarez's original contract that would allow them to match any offer that the UFC put forth, which included a cut of the PPV revenue for the cards Alvarez fought on. Alvarez disputed Bellator's matched offer and this ultimately led to Alvarez sitting out the remaining months of 2012 and the majority of this year as he challenged Bellator in the courts. It has been a real shame that a talent such as Alvarez has had to wait out one of his remaining prime competing years on the sidelines as legal battles replaced those in the cage, but now that he is back, Alvarez will be looking to make up for lost time.
The events leading up to this bout have, for me, prevented any hope of the rematch living up to their first encounter. Chandler has stayed active and has had the time to improve that much more since Bellator 58, while Alvarez has been left to rot in a courtroom. Hopefully I am wrong and we are treated to a repeat of their previous bout, but I can't quite see it. Chandler will prove to be far too sharp for Alvarez this time around and while it will be competitive, I envision Chandler taking it and much earlier than previous.
Prediction – Chandler via KO/TKO in the 2nd round.
Bellator Featherweight Championship:
Pat Curran vs. Daniel Straus – 145lbs.
Many casual fans are unaware of Pat Curran, but this guy is an elite featherweight who would give many of the top boys over at the UFC fits. Since claiming the Bellator Featherweight Championship from Joe Warren back at Bellator 60 in March 2012, Curran has gone on to successfully defend the belt twice with victories coming over Patricio Freire and Shahbulat Shamhalaev. Curran has fought Straus before, way back in April 2009 under the XFO promotional banner KO'ing Straus in the second round. Curran will look for a repeat of their first contest tonight and further cement his reputation as one of the top competitors in the 145lbs division.
Daniel Straus will be full of confidence tonight, as he carries in to the bout a five-fight win streak. Straus has earned his title opportunity via the traditional Bellator tournament format, with Straus defeating Jeremy Spoon, Mike Corey and Marlon Sandro along the way. Straus most recently competed against Alvin Robinson, in order to keep him busy before facing Curran, but this was back in October 2012, as a previously arranged Curran-Straus matchup was foiled after Straus suffered a broken hand.
Since their first meeting, both men have improved but Curran more than Straus. Curran will have too much for Straus in virtually all aspects of MMA and I firmly expect Curran to take this with relative ease.

Prediction – Curran via KO/TKO in the 1st round.
Bellator Interim Light-Heavyweight Championship:
Muhammed Lawal vs. Emmanuel Newton – 205lbs.
This one has got a little heat behind it. Neither man has had a kind word to say about the other leading up to this bout and the origins of their feud can be traced back to Bellator 90 earlier this year. Lawal and Newton met at the semi-final stage of the Bellator Light-Heavyweight tournament, with Lawal expected to steamroll Newton en route to taking the championship belt and becoming one of Bellator's biggest stars after his high profile acquisition. However, Newton had other ideas and midway through the first round he connected flush on the chin of 'King Mo' with a spinning backfist that sent Lawal tumbling to the canvas.
Newton would go on to be crowned tournament champ, whereas Lawal has looked dominant in back-to-back victories over Seth Petruzelli and Jacob Noe but is rarely at a loss for words whenever Newton's name is brought up. Lawal has claimed that Newton landed a lucky punch and that this time around things will be different and I tend to agree. For me, Lawal learnt his lesson last time around and will not look to stand with Newton for extended periods of time to limit the chances of lightning striking twice. Lawal will likely utilise his vastly superior wrestling this time around, dictating the fight whilst breaking Newton down with ground and pound.
Prediction – Lawal via KO/TKO in the 3rd round.
Bellator Fight Master Final:
Joe Riggs vs. Mike Bronzoulis – 170lbs.
Bellator's answer to the UFC's The Ultimate Fighter comes to a conclusion tonight, as Joe Riggs and Mike Bronzoulis do battle to claim the inaugural title of Fight Master.
Riggs should be well known to long-time MMA fans having made his name in the mid-00's within the UFC's Octagon where he fought the likes of Matt Hughes, Diego Sanchez and Nick Diaz; with the Diaz fight even spilling in to the hospital ward where both men were taken after the contest. Bronzoulis is a little less recognisable than his opponent and his fight with Riggs will be by far his greatest test to date.
I've got to go with Riggs on this one, the guy is currently high off of a five-fight win streak and will carry a huge advantage in experience and competition faced compared to that of Bronzoulis.
Prediction – Riggs via unanimous decision.
Mike Richman vs. Akop Stepanyan – 145lbs.
Both men have huge power for featherweights and elect to stand and trade for the majority of their bouts if they have a choice. Neither Richman nor Stepanyan are on form as each combatant enters the cage on the back of a loss, with Stepanyan having lost three out of his last four. So while this fight isn't exactly going to have title implications for the winner, it should be an exciting affair with both men throwing caution to the wind in the pursuit of the knockout and is well worth a watch.
Prediction – Richman via KO/TKO in the 3rd round.