UFC 171 lost its championship headliner due to an injury to Chris Weidman earlier this week, but according to a report by USAToday it has been given a new championship main event – Renan Barao vs. T.J. Dillashaw for all the marbles.
It was reported Monday that Chris Weidman had suffered a knee injury and wouldn't be fit to compete at UFC 173 against Lyoto Machida. UFC officials moved the bout to UFC 175 and immediately sought a replacement, they have found in in a bantamweight championship showdown.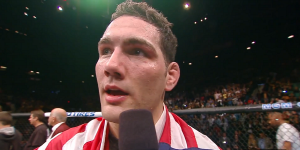 According to the report, Rafael Assuncao was initially slated to face Barao for the title, but lingering injuries kept him from accepting the fight on such short notice.
In steps Ultimate Fighter veteran T.J. Dillashaw (9-2 MMA, 5-2 UFC). Dillashaw is coming off the back of an impressive victory over Mike Easton, after losing to Rafael Assuncao in a razor close decision back in October. It was a loss that broke his four fight win streak in the UFC.
Barao (32-1-1 NC MMA, 7-0 UFC) is undefeated in 32 straight fights, with his solitary loss coming in his first professional contest. In his last fight he finished Dillashaw's teammate Uriah Faber in the first round.
UFC 173 takes place at the MGM Grand Garden Arena in Las Vegas, NV on May 24, 2014. Below is the updated fight card.
Main Card
Renan Barao vs. T.J. Dillashaw
Junior dos Santos vs. Stipe Miocic
Takeya Mizugaki vs. TBA
Tony Ferguson vs. Katsunori Kikuno
James Krause vs. Jamie Varner
Preliminary Card
Michael Chiesa vs. Francisco Trinaldo
Chris Holdsworth vs. Kyung Ho Kang
Mitch Clarke vs. Al Iaquinta
Anthony Njokuani vs. Vinc Pichel
Yves Edwards vs. Piotr Hallmann
Doo Ho Choi vs. Sam Sicilia
Jingliang Li vs. Danny Mitchell