Bamma Fight Night 1
Saturday 7th June saw Bamma hold their first 'Fight Night 1' Askham vs Nunes for the Bamma World Middleweight Title at the 02 Guildhall in Southampton to a packed out crowd.
The atmosphere at the 02 Guildhall was friendly, welcoming and very electric.  Being at a smaller venue than their usual arena tours, you really got a sense of no matter where you were seated you were part of the action and boy was there was a lot of action.
Photo Credit. Graham Finney
BAMMA MIDDLEWEIGHT WORLD TITLE FIGHT
MAX NUNES  12-2                            SCOTT ASKHAM 12-0
Round one opens up and  it's Nunes who is in first with his punches, he then slips and Askham is in Nunes guard, Nunes is attempting to set up a Triangle but to no avail.  Askham postures up and starts to land some meaningful punches to Nunes but he is staying active and busy, Askham delivers more punches to Nunes but he manages to get back to his feet. Askham has Nunes against the cage landing punches whilst Nunes is trying to gain wrist control and lands some knees to Askham, which Askham also returned himself.  The canvas appears to be slippy as Nunes is now using more of his striking ability and again nearly slipped.  Askham manages to get Nunes back against the cage to try to control Nunes just as the bell goes for the end of round one.
Round two opens up with Nunes coming out with leg strikes and has Askham up against the cage. Nunes throws an awesome knee but Askham turns it around where both guys are trying to fight for underhooks and a better position but the referee steps in and splits them up – back to the centre of the cage and Nunes is trying to keep it long but gets caught by Askham who takes him down.  Askham has Nunes against the cage and drops him albeit briefly as Nunes pops right back up, at this point Askham tries to take Nunes down again but Nunes takedown defence was too much for Askham this time as he himself dropped to his knees, the referee once again splits them up. Back to the centre again with some striking action from both fighters whom both clearly are looking tired coming towards the final seconds of this second round, Askham attempts a spinning elbow which misses, then the bell goes for end of round two.
Round three, both fighters raise their hand and touch gloves for a sign of respect in this third and final round. They both come out landing kick for kick, and then punch for punch.  Askham looks to clinch and hold Nunes for which he succeeds and again forces Nunes against the cage where he starts to unleash his fists of fury on Nunes which then sees him slumped to the canvas and Askham carries on until the referee steps in.
WINNER SCOTT ASKHAM 1MIN 50 SECS Rnd 3 VIA TKO
WINNER AND STILL BAMMA WORLD MIDDLEWEIGHT CHAMPION SCOTT ASKHAM
ALEXEI ROBERTS 10-6                              ARTEM KOTOV 3-2
Roberts comes out with few left jabs then Kotov comes in to go for a single leg takedown but it ends up being a full on single leg with a suplex followed by some GnP. Roberts get back to his feet but Kotov still has his back then Kotov lifts up Roberts and then full on body slams him. The crowd are going wild shouting 'Artem' 'Artem' 'Artem'. Roberts is back up to his knees and Kotov continued to unleash Gnp on Roberts until the referee called a stop to the fight.
WINNER ARTEM KOTOV 1MIN 04 SECS Rnd 1 VIA TKO (STRIKES)
DRAGAN PESIC  3-2            ASHLEIGH GRIMSHAW  16-8-1-1
Pesic comes out and lands a straight punch, Grimshaw pushes Pesic against the cage, Pesic landing some knees, Grimshaw takes Pesic down and Pesic in full guard there is not much going on so the referee stands them both up. Pesic lands a solid punch and kick to Grimshaw. Pesic tried to jump and pull guard but it was Grimshaw who got the better of this and took Pesic down by slamming Pesic to the canvas where Grimshaw got Pesic in an Arm-Triangle Choke and he was forced to tap.
WINNER ASHLEIGH GRIMSHAW 3MINS 35 SECS Rnd 1 VIA ARM TRIANGLE CHOKE
TIM MENZIES  2-1        ALEX MONTAGNANI 7-1-1
Both guys come out punching, Montagnani gets Menzies against the cage trying to fight for a position then all of a sudden Montagnani knees Menzies followed by a flying knee and it's all over for Menzies.
WINNER ALEX MONTAGNANI 1MIN 28 SECS Rnd 1 VIA KO (FLYING KNEE)
MICHAEL CUTTING  5-2        ED ARTHUR  4-0
First of all there was a lot of build-up and 'hype' to this fight. Mike Cutting entered the cage first to a very vocal crowd of Cutting fans, next was the turn of Ed Arthur who let's just say his fans were more vocal and were 'raising the roof' of the 02 Guildhall.  Once both fighters were in the cage, neither fighter took their eyes of one another, Cutting in his usual crouched down position and Arthur pacing back and forth and the crowds are chanting 'Eddie' Eddie' Eddie' from the stalls.
As round one gets under way it was Cutting who got the initial takedown. Cutting gets a warning for striking Arthur with accidental knee whilst Arthur's hand is placed on the canvas, Referee speaks to Cutting and Arthur the fight is resumed.  Cutting is working well of his back trying to set up a sub but to no avail all the while Arthur is landing ferocious punches to Cuttings face for which the crowd are going wild and chanting 'Eddie' Eddie' Eddie'.  Both guys scramble with Arthur in side control raining shots, Cutting turns it around and ends up in Arthur's guard who locks up a triangle attempt on Cutting for the remainder of round for which Cutting just rides out.
As soon as we start round two Arthur comes out with his hard punches backing Cutting against the cage adding in some knees also.  Cutting attempts a seated guillotine which Arthur defends as there is a scramble, Cutting is on his knees, Arthur scoops round to Cuttings back to secure a RNC.
WINNER ED ARTHUR 1MIN 58 SECS Rnd 2 VIA RNC
AMATEUR FIGHTS
NICK JONES  2-1       MARCUS MITCHELL  1-0
Both came out exchanging strikes, Jones took Mitchell down, both guys scrambled which resulted in Mitchell in full and Jones on top position, Mitchell shrimped backwards managing to get back to his feet where both guys started punching, Jones went down, Mitchell capitalized on this and continued to GnP until the referee stopped the fight.
WINNER MARCUS MITCHELL 1 MIN 19 49 SECS Rnd 1 VIA TKO (PUNCHES)
ANDY HANNON  0-1             JOSH ROE  1-0
The opening round sees Roe push Hannon against the cage and takes him down, Hannon straight away is working on an armbar against the cage fence, Roe is trying to adjust the position by using his knees to deter him but Hannon is still holding on trying to gain that armbar even shifting his position slightly.
Round two and Hannon is straight out striking with his kicks but its Roe who drops Hannon with a brutal kick, but in return fires back with a up kick. It is back to standing and Hannon lands a few low kicks whilst Roe returns with punches. Roe is winning the striking department and seems Hannon wants no part of it until he catches Roe with a lovely right cross. Great striking round.
Round three and Hannon lands an accidental low blow to Roe, Roe recovers and were back to a standing war. Hannon is landing more of his punches to Roe's face and goes in for a takedown but is defended well; there is a scramble both guys give it their all as Hannon is looking for the sub as the fight ends with Roe in top position.
WINNER JOSH ROE VIA UNANIMOUS DECISION 29-28, 29-28, 30-27
DAMIEN KORYGA            RICKY MITCHELL
Round one and its Mitchell straight in with a 1,2 combination then takes Koryga down he attempts a guillotine to no avail, Koryga fights back and attempts to get Mitchell in a guillotine himself but to no avail.  Koryga slams Mitchell and is working hard on the ground. They manage to get back to their feet briefly but its clear Koryga is getting the better of Mitchell in this opening round.
Round two and its Koryga straight out and gets Mitchell down, Mitchell get backs to his feet and Koryga forces him against the cage fence, Koryga is landing some knees then manages to lock in a standing guillotine.
WINNER DAMIEN KORYGA 1 MIN 35 SECS Rnd 2 VIA GUILLOTINE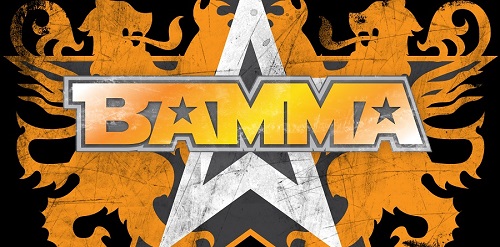 BAMMA FIGHT NIGHT 1 – RESULTS
BAMMA Middleweight World Title Belt
Scott Askham def. Max Nunes via TKO 1:50 Round 3 to retain the title
Catchweight: Artem Kotov def. Alexi Roberts via TKO 1:04 Round 1
Featherweight: Ashleigh Grimshaw def. Dragan Pesic via Arm Triangle 3:35 Round 1
Welterweight : Alex Montagnani def. Tim Menzies via KO (Flying Knee) 1:28 Round 1
Bantamweight: Ed Arthur def. Mike Cutting via RNC 1:58 Round 2
PRELIMS
Middleweight: Marcus Mitchell def. Nick Jones via TKO 1:49 Round 1
Featherweight: Josh Roe def. Andy Hannon via Unanimous Decision (29-28, 29-28, 30-27)
Middleweight: Damien Koryga def. Ricky Mitchell via guillotine choke 1:35 Round 2