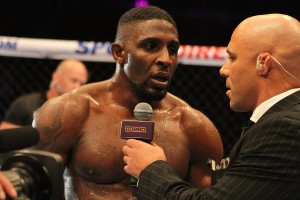 WHOA! TV's Emma Bramford was cage side for BAMMA's thirteenth show and as with previous cards this promised to be a stacked affair with no skimping on the excitement. Here she breaks down the action from top to bottom.
PRELIMS
MARIUSZ MARZEC VS JEFFERSON GEORGE LW
Rnd 1 Both guys are coming out and looking to take this opening round to the ground for which they both find; George is looking to gain more dominance but Marzec is holding his own in this opening round.
Rnd 2 George straight in with punches and had Marzec's back attempting an guillotine to no avail, Marzec now turtling up and George on his back dishing out some shots, Marzec is managing to move his way to the cage with George on his back trying to gain a sub but also maintaining a great work rate, just like that, George manages to get his sub and sinks in a RNC.
Winner Jefferson George via RNC Rnd 2 4.37
TIM WILDE VS STEPHEN MARTIN LW
Rnd 1 Both guys are out fast, Martin has Wilde against the cage trying to get a TD, Wilde manages to get away from the cage and the action is back to the centre albeit briefly, Martin pushing back against the cage to Wilde, action moves to centre of cage Martin makes a mistake and Wilde capitalizes on this with a flurry of shots but it does not seem to bother Martin, Martin again pushes Wilde back up against the cage as we go into the final seconds of the opening round.
Rnd 2 Martin straight in with a leg kick then a 1,2 combo and pushed against the cage, Wilde with the odd elbow to Martin, Wilde looking to move from cage and catches Martin with a high kick that cuts him, although Martin pushes back against the cage, with little action the Referee has seen enough and it's back to the centre of the cage, Martin throwing some knees and Wilde threw a spinning back fist in a brief clear action before Martin again pushes Wilde back up against the cage in the final seconds of the second round.
Rnd 3 Wilde looking to stand and trade shots but Martin again backs Wilde up against the cage, it becomes a stale mate and the referee pulls them apart, this time Wilde has Martin against the cage and the action goes to the ground for the first time with Wilde on top giving out a bit of GnP – he lets Martin back up clearly mouthing 'back to your feet' as Martin is led on the ground, Martin pushes Wilde against the cage with both guys clearly tired although Martin the more so of the two, often dipping into the knee position whilst having Wilde pushed on the cage, Wilde is trying hard to land shots in the final seconds of this third round. It goes to the judges' score cards.
Winner via UD 30-27, 29-28, 29-28 Tim Wilde
HARRY MCLEMAN VS MATT HA LLAM MW
Rnd 1 Hallam straight in and busy, Hallam has McLeman against the cage, McLeman breaks free and it's a scramble as the fight goes to the ground, McLeman attempts a guillotine only for Hallam to escape, brief action back on their feet which see's Hallam give a knee shot to McLeman which landed in the groin area accidently, McLeman takes a few minutes out to recover.
Back to the action and McLeman is landing knees while Hallam has him against the cage, although Hallam is returning the favour, Hallam turns himself against the cage then a brief exchange as the sound of end of round one comes ahead.
Rnd 2 Great opening second round for both guys, Hallam comes out with a lovely shot, but it's McLeman that can seal the deal and gets a Guillotine.
Winner via Guillotine 0.48secs Rnd 2 Harry McLeman #My SOTN
Danny Missin Vs Rany Saadeh FW
Rnd 1 Saadeh looking very fired up and is straight out rushing to Missin, Missin is in first with leg kicks, Saddeh catches Missin with a punch and the action goes to the floor, short elbows to the head with Saadeh in top position follow, Missin working well from bottom, Saadeh coming back with his shots and a little GnP action to end round one.
Rnd 2 Saadeh in with a 1,2 combo, Missin comes back with a big low kick, Saadeh goes for a front face kick as both guys are having a fast paced toe-toe war, Saadeh catches Missin again and we are back to the ground, although Saadeh is holding top position with little action the referee had no choice but to stand both fighters up; Saadeh gives a great low kick to Missin which Missin shows the pain on his face, Saadeh straight in with his striking but Missin is taking it until he slips for which Saadeh capitalizes on this, throwing a nasty knee to the body which see's Missin go down to turtle up, Saaeh still going in for the kill for which at that point the referee jumps in and calls a stop to the fight.
Winner via TKO due to Sktrikes 4.13secs Rnd 2 Rany Saadeh
Mahmood Besharate vs Joe Laurence Flyweight
As both fighters make there entrance's to the cage, it appears from where I am sat that the majority of both fans are sat right next to each other (Behind me) this I have a feeling will play out very well, in a good way.
Rnd 1 Great opening round sees both guys willing to stand and trade, until Laurence catches Besharate's leg and the action is taken to the floor only for Laurence to be caught in failed side triangle but Laurence made his way out of it, Besharate pushes Laurence up against the cage adding in some knees whilst Laurence not to be out done is coming back with the odd punch.
Rnd 2 Besharate is in with a leg kick, Laurence comes back with combinations of 1,2 and a flurry of shots, and a few leg kicks, Besharate pushing Laurence against the cage desperately trying to gain a secure position for a TD but to no avail but as not much action is happening the referee calls for them to stop and to re-gain in the centre of the cage; back to the centre and both guys are now trying to 'feel' each other out in the final seconds of the second round.
Rnd 3 Besharate straight in with a punch, Laurence runs in which pushes Besharate against the cage as he is now looking for the secure position to gain a TD, Laurence adding foot stomps into his technique, Besharate has now turned Laurence and is again pushing against the cage; Besharate in with kicks, Laurence has the odd 1,2 combo and now you can really hear the crowd getting behind both these the chants of 'G.I.JOE' are echoing then 'MAHMOOD' are echoing, then both together, Laurence manages to turn Besharate against the cage in the last few seconds and throwing punches trying to score some points as the third and final round comes to an end. It goes to the judges.
Winner via UD 29-28, 30-27, 30-37 Mahmood Besharate
Adam Boussif Vs Leon Edwards WW
Rnd 1 Both guys come out fired up for this Welterweight battle and it goes straight to the ground, with Edwards on Top, it quickly get backs to standing as both guys trade briefly for the action to go to the ground and Edwards submits Boussif.
Winner via Arm Triangle 2.10secs Rnd 1 Leon Edwards
Ion Pascu vs Jack Marshman MW
Roaring cheers for BAMMA favourite Jack Marshman as he enters the arena
Rnd 1 Marshman straight in with punches and throwing the odd high kick, chasing Pascu down, Pascu caught Marshman with a big right which seems to of cut Marshman, Marshaman in with hand combo's and a lovely knee, Pascu is taking the shots and also dishing out his own punishment for Marshman as both guys are going toe-toe, and the crowd are loving it, Pascu catches Marshman and he goes down, Pascu jumps on Marshman to continue his punishment and the referee quickly jumps in to stop the fight.
Winner via KO 4.02 secs Rnd 1 Ion Pascu #My KOTN
MAIN CARD
WORLD MIDDLEWEIGHT TITLE BELT
Jorge 'Michelan' Bezerra VS Scott Askham
Rnd 1 Bezerra takes the fight to the centre of the cage looking to go in for a TD but Askham pushes Bezerra away for both to go to the ground with Askham coming out on top, Askham looking to move around and Bezerra being the BJJ specialist that he is, is looking for the armbar for which he does manages to catch Askham in for a bit but Askham weathers the storm to get back to full guard where he starts raining down some GnP onto Bezerra.
Rnd 2 Askham straight in and to the ground we go, Askham in top position but Bezerra reverses it trying to look for a sub, now Askham reverses it and is again in top position landing some vicious GnP, this is a battle of who wants to get the submission the most, Bezerra now on top looking to work for a sub but Askham is working extremely well from the bottom throwing punches and elbows.
Rnd 3 Askham in with an awesome high kick but Bezerra blocked it (at this point you can hear the crowd gasp/roar as that was one powerful kick and was certainly getting more of their attention), Bezerra pushing forward and to get Askham against the cage, Bezerra gets Askham's leg locked looking to gain one of his top two subs Heel Hook or Kneebar but no avail, Askham manages to get out of it – it goes back to standing albeit briefly as Askham gets it back to the floor, then Askhan is letting Bezerra get back up to his feet, Bezerra throws leg kicks and then it's all over we head over to the judge's cards.
Winner UD 30-27, 30-27, 30-27 NEW WORLD MIDDLEWEIGHT TITLE WINNER SCOTT ASKHAM
Colin Fletcher vs Tim Newman LW
It was good to see BAMMA crowd favourite Colin Fletcher back on home ground and his entrance did not go by un-noticed ~The crowd welcomed back Colin Fletcher with Open Arms and this is even before he had stepped foot in the cage.
Rnd 1Newman comes in with kicks and Fletcher returning them, Fletcher with a 1,2 + leg combination, then a straight left puts Newman down, Fletcher capitalises on this and goes straight in but Newman can see that Fletcher has his arm out, takes it and attempts an armbar, Fletcher gets out and pushes Newman against the cage, Newman comes in with a right, Fletcher catches Newman with a kick and Newman goes down, Fletcher again is straight on Newman doing GnP and it's looking like Newman is in trouble with 10 seconds to go on the clock the crowd are willing Newman to weather the storm, and he does for the end of round one.
Rnd 2 Fletcher goes in for a kick and Newman catches it where the action goes to the floor, Newman has Fletcher's arm trapped whilst Fletcher is on led on top position but Fletcher appears to have Newmans leg caught in his legs, Fletcher gets his arm free, moves to side control and looking for a sub but Newman is putting up a great BJJ fight here, both guys skills are for everyone to see, Newman gets high guard and gets Fletchers head and arm briefly before Fletcher reverses it and is out of danger, this is an awesome round of great BJJ skills.
Rnd 3 Newman in with strikes and Fletcher is down briefly, Newman pushing Fletcher against the cage, we see a lot of reversals in a short space of time against the cage and the action goes to the floor, Fletcher is in top position but you can clearly see both guys are tiring but who wouldn't after giving their all in the prior two rounds, Newman is cut from one of Fletcher's short Elbow's he is throwing, as the final seconds of the round come to a close Fletcher is working hard on trying to finish the fight landing elbows and trying for the sub. It goes to the Judges.
Winner via UD 30-27, 30-27, 30-27 Colin Fletcher #My FOTN
BAMMA WORLD LIGHTWEIGHT TITLE BOUT
Curt Warburton vs Mansour Barnaoui
Rnd 1 Both are straight in, Warburton pushes Barnaoui up against the cage, action goes to the floor where Warburton gains top position briefly its then back to their feet for a stand up war, both fighters exchanging punch for punch, and knees alike, Barnaoui does a flying knee for which Warburton answers with a short standing Elbow in this great exchange; Barnaoui catches Warburton and is now raining shots down on him, Warburton trying to defend the referee has seen enough and steps in and calls a stop to the fight.
Winner via TKO Strikes 4.08 Rnd 1 NEW WORLD LIGHTWEIGHT TITLE MANSOUR BARNOUI
WORLD WELTERWEIGHT TITLE BOUT
Another BAMMA crowd favourite 'Judo' Jimmy Wallhead, the chants of 'Judo' are echoed around the arena as he is walking in.
Jimmy Wallhead vs Eddy Ellis
Rnd 1 Wallhead in with a 1,2 , Ellis in with his own 1,2 , Wallhead catches Ellis with a cracking left hand and Ellis takes it, both of these guys are feeling a stand up war already in the opening minute of this round, Wallhead throws a kick to Ellis's body but its blocked and Wallhead gets taken down, landing on all four's position, Ellis takes Wallheads back looking to gain a sub but to no avail, having had his legs in a body triangle round Wallhead it was making hard work for a while for Wallhead, whilst throwing some shots towards the end of the final seconds of the first round.
Rnd 2 Ellis gets Wallhead with a high kick to the side of his head, both guys are really pushing forward, each firing back shot after shot, Ellis gets Wallhead down but not for long and its back to standing, Wallhead catches Ellis and that one showed pain on Ellis who is 'egging' Wallhead on in the final seconds on this all out stand up war in the second round.
Rnd 3 Both guys come out trading punch for punch, Ellis acknowledging the shots of Wallhead, Wallhead pushes Ellis against the cage landing knees and foot stomps but there is little action, referee Mark Woodard splits them up and the action resumes back in the centre where both guys are trading shots once again; Ellis attempts to go in for a TD , Wallhead sees it coming and lands his own big shot, it's the final 20seconds of the fight and all to fight for as both guys give it their all. We go to the judges for a decision.
Winner via Split Decision 29-28 JW, 29-29 EE, 30-27 EE NEW WORLD WELTERWEIGHT TITLE EDDY ELLIS
WORLD LIGHT HEAVYWEIGHT TITLE BOUT
Chants for Nunes are echoed all around the arena as he is making the crowd wait on his entrance here for another BAMMA favourite.
Max Nunes vs Jason Jones
Rnd 1 Nunes in first with kicks and front kick to Jones face, Nunes goes for another leg kick but Jones catches it and the action goes to the floor, with Jones on top in side control, back to on top trying to find a position to gain the submission but to no avail as Nunes working well off his back throwing some short elbows, and gets the fight back to standing, Nunes straight back in with his leg kicks, he his good head movement, gets a jumping side kick quickly followed for a TD attempt only for Jones to see this and is now pushing Nunes against the cage with only a few seconds last of this opening round.
Rnd 2 A touch of gloves opens this second round , Nunes coming straight in with his leg kicks and Jones comes back with a combo of shots for which Nunes ducks giving Jones the upper hand of pushing Nunes against the cage where we see Jones unleash some brief shots of his own, the action goes to the ground where Jones is in top position throwing short elbows, along with Nunes also throwing his own Elbows off from his back, Nunes is cut and Jones smelling the blood just spurs him on more to try to finish the fight, Nunes gets caught as he tries to sit up and Jones get the submission.
Winner via Arm Triangle 3.50secs Rnd 2 NEW WORLD LIGHT HEAVYWEIGHT TITLE JASON JONES
From start to finish the card was a very eventful one with a lot of upsets and surprises and New champions along the way, but you couldn't question any commitment or style of the match making, as I always say 'styles make fights' and tonight I was not let down one bit on any of the fights.
BAMMA 13 NIGHT OF CHAMPIONS OFFICAL RESULTS
JASON JONES DEFEATED MAX NUNES 3.50 RND 2 VIA ARM TRIANGE**
NEW WORLD LIGHT HEAVYWEIGHT TITLE BELT HOLDER**
EDDY ELLIS DEFEATED JIMMY WALLHEAD VIA SPLIT DECISION**
NEW WORLD WELTERWEIGHT TITLE BELT HOLDER**
MANSOUR BARNOUI DEFEATED CURT WARBURTON 4.08 RND 1 TKO (STRIKES) **
NEW WORLD LIGHTWEIGHT TITLE BELT HOLDER**
COLIN FLETCHER DEFEATED TIM NEWMAN VIA UD
SCOTT ASKHAM DEFEATED JORGE 'MICHELAN' BEZERRA VIA UD**
NEW WORLD MIDDLEWEIGHT TITLE BELT HOLDER**
ION PASCU DEFEATED JACK MARSHMAN 4.02 RND 1 KO
LEON EDWARDS DEFEATED ADAM BOUSSIF 2.10 RND 1 VIA ARM TRIANGLE
MAHMOOD BESHARATE DEFEATED G.I JOE LAURENCE VIA UD
RANY SAADEH DEFEATED DANNY MISSIN 4.13 RND 2 TKO (STRIKES)
HARRY MCLEMAN DEFEATED MATT HALLAM 0.48 RND 2 VIA GUILLOTINE
TIM WILDE DEFEATED STEPHEN MARTIN VIA UD
JEFFERSON GEORGE DEFEATED MARIUSZ MARZEC 4.37 RND 2 RNC