Alexei 'Boom' Roberts (10-5) who has fought on many promotions and has earned the Welterweight and Lightweight Title for promotion Into the Cage, and former Welterweight Title at Shock 'N' Awe, will be making his debut for promotion BAMMA on June 7th for the Hampshire native.
Team Kyouken fighter Alexei 'Boom' Roberts was  seen winning 'UK's Hardest Man' back on October 19th 2013  at Southampton's  O2 Guildhall, which is pretty ironic really as on June 7th The 'Boom' will take on Artem Kotov for BAMMA's 'Fight Night' Series back at the O2 Guildhall in Southampton.
In 2012 Alexei got through to the last fourteen men for the  season of The Ultimate Fighter: The Smashes – Team UK vs Australia, and although he did not make the final cut for that season he said  "Being involved in the UFC set up was incredible, I learned so much and met some great guys at the try-outs".
Having had a recent run of 'bad luck', two losses and two fights cancelled due to missing weight in 2013 Alexei said " It was my first year at lightweight and cutting and rehydrating are really tough, there's no exact science so it's been hard getting it right".  But maybe winning the tournament of 'UK's Hardest Man' back on October 19th 2013 gave Alexei the boost he was looking for, after all a tournament format of fighting three times in a night and a cash prize of £3,000 is a good incentive to motive anyone I would think!
The lack of rules concerned within health and safety that 'Uk's Hardest Man' had, raised more than a few eyebrows in the MMA community and a bit of backlash. I mean where else would you get professional MMA athletes competing against masked crusaders of 'Batman & Robin who take on Spiderman'.  Alexei explained why he wanted to participate in such a format "To be honest I don't really look for the fights. I am too busy training, I leave that to my manager Mike, he checks it all out then lays out the pro's and con's to me. I live for a challenge and UKHM had it all, it is not often you get the chance to fight three times on one night and the money helped. I was focused on the tournament side of it, there were some bad ass fighters in the mix and the rules were slightly different and with no cage it was whole different ball game. I didn't see the batman and robin fight till after the show it was pretty damn funny and I think it's had over half a million hits" stating that he is not into the 'super hero' type himself but given a choice he would of course be 'Jax from Mortal Combat'.  There has not been any confirmation if Alexei has to go and defend his title but he is open to the suggestion if he were asked.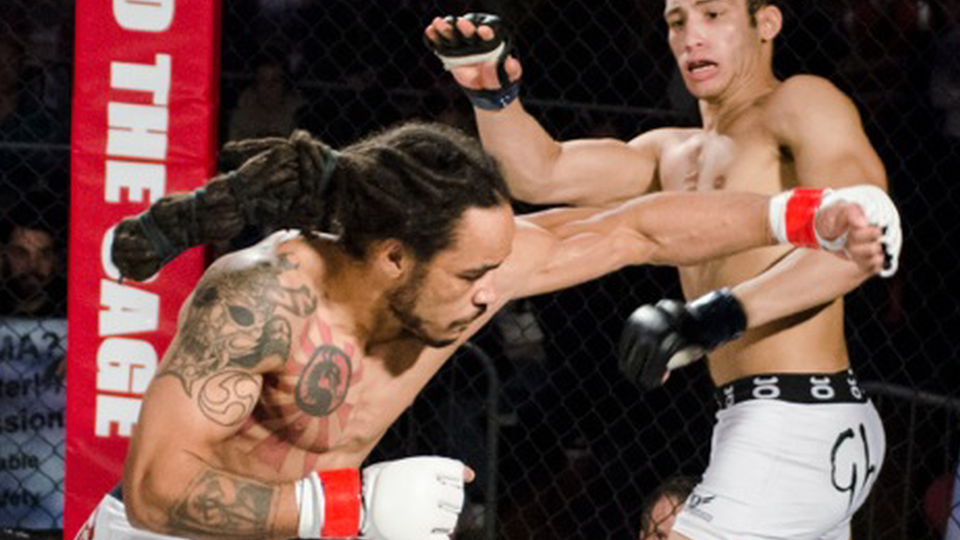 This year has had a much better start to it, on March 29th 2014; Alexei defended his lightweight title at ITC 9 against Xavier Sedras.  For the first time in his pro career Alexei fought a five round fight to win a split decision, Alexei said "I train to do more than five, five minute rounds so it was a great way to finally test my endurance out, plus I've not fought anyone who fights like Xavier, so it was a double test. Getting my hand raised… Awesome" when asked was there any aspect in Sedras game that really took him by surprise in that fight at all he stated "I was surprised how much he backed off and wanted to waste time trying to pin me to the cage, I would have preferred a stand up war but I guess that's just his strategy".
Alexei's next fight on June 7th for BAMMA is taking place as a Catch weight fight, which, to some, including myself seemed a strange fit for the lightweight fighter "I was scheduled to fight Benny Carr who fights at 77kg so we agreed a catch weight fight which we were both happy with, then he pulled through injury. We stuck to the same weight when Artem Kotov stepped up and the guy is a unit, he will be coming to fight so I'm expecting some fireworks! Although I would of preferred to be fighting at 70kg…  it is what it is".
Having been the underdog in most of his fights Alexei may just have the advantage this time in being the more experienced fighter with Artem only having  4 Pro fights compared to Roberts 15 Pro fights "I wouldn't say underdog, I just like fighting top opponents, if it's not a challenge what's the point? He is a tough opponent and has a lot of experience outside of MMA so I'm not underestimating him".  Artem does himself have an impressive record and I myself have always believed in styles make fights, with Alexei gaining a Silver Medal at the Worlds Jiu Jitsu in Las Vegas, 2nd Dan in traditional Jiu Jitsu along with his KO power.  Artem's background is in Olympic wrestling, being a former Ukrainian Olympic wrestler himself and his own KO power previously demonstrated in his last two amateur boxing fights, I would say that this has all the makings for an explosive fight! BOOM!
Giving the final say to Alexei, I asked if there were anyone whom he would like to thank "My family for putting up with me, my fans for supporting me, my sparring partners for getting back up and my manager Mad McGarry.. oh and Paul Phillimore who does loads in the background".
You can keep up-to-date with Alexei on Twitter https://twitter.com/alexei_boom or Facebook www.facebook.com/AlexeiBoomRobertsfanclub
Photo Credit: Paul Day