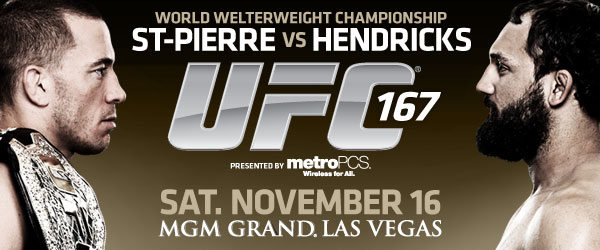 We are on the eve of one of the biggest and highly anticipated UFC cards to date and I give you seven good reasons to tune in to watch this Saturday night!
7. It is the 20th anniversary show
UFC 1 took place on November 12th 1993 and it was never meant to last this long. The promotion ran into all sort of problems from financial to political. Fast forward to November 16th 2013 and it is a whole different ball game as the UFC is a powerhouse promotion doing shows all over the World. Watching this show will be the best way to honour all the hard work everyone over the years has put into making the UFC into what it is today.
6. UFC Veteran Battle
A fight falling under the radar is a fight between two UFC veterans in Ed Herman (21-9) and Thales Leites (21-4). This fight marks Herman's 15th and Leites' 10th fight in the UFC. Herman made his debut in 2006 and has been with the company ever since posting a record of 8-5-0-1. Leites (6-3 UFC) is making his second run in the company, he also made his debut in 2006 and worked his way to a title shot at Anderson Silva. This fight will also be a battle between two high level grapplers and both fighters have an incredible 13 submission wins each!
5. Sonnen vs Evans
The former champ vs The American Gangster, this fight could main-event any card. Stylistically this fight matches up very well, Evans and Sonnen are both very good wrestlers but Evans has the advantage in the striking. One can never count out Chael P. though, he seems to pull-off wins just to remind us that he can back-up his talking. The build-up of this fight would have been so much better had these two not been so close of friends through their broadcast work but regardless who wins, it will make for some funny ribbing on future FOX coverage featuring these two.
4. Debut of Sergio Pettis
It is rather fitting that the 20th anniversary show will launch the UFC career of Sergio Pettis (9-0). Brother of UFC champ Anthony Pettis, the 20-year-old has shown all the capability to join his brother as a champ one day. Yet to taste defeat, Pettis has proven he is so well-rounded that he can win via TKO or Submission or battle out a decision. The latest example of how the mixed martial artist has evolved over the past 20 years.
3. Old School vs New School
Robbie Lawler made his UFC debut in 2002 at just 20 years old, he made seven appearances going 4-3 during his first run in the company. Eight years later in 2010 another 20-year-old makes his debut, Rory MacDonald enters the UFC and has made a very big impression. He already holds wins over the likes of BJ Penn and Nate Diaz. This is probably the only fight the UFC could have put together that represents Old School vs New School! Even at the pre-fight press conference Robbie was wearing a Pride t-shirt while Rory wore a suit.
2. GSP retirement?
Yes there are rumours that GSP might retire following this fight. The greatest welterweight of all time and one of the GOATS, it would be a fitting end to a career to bow out on top should he beat his toughest opponent to date. I personally don't think he'll retire, but I am not taking the risk to miss watching what could be GSP's last fight in what could be a "where were you when…." moment.
1. The Johny Hendricks Challenge
As stated above, Hendricks provides the toughest challenge that GSP has possibly ever had. 'Bigg Rigg' has the wrestling to stop GSP's takedowns and has the KO power to knockout a rhino! There is nothing more exciting than going into a title fight where you know the challenger has all the skills needed to beat the champ. This is a proper title fight ladies and gentlemen!