Back in my early years leading to my late teens I was a massive WWF (now WWE) fan. There was no one cooler than the anti-hero Stone Cold Steve Austin or the rebel group D-X and don't get me started on 'the ayatollah of rock and rolla' Chris Jericho.
My interest in pro-wrestler waded as I got older but every January I tune in for the Royal Rumble and, although I may not watch RAW every week, I do keep up to date with what is happening for the next two months leading to WrestleMania, the showcase of the immortals.
This year in particular I was disappointed from the beginning. Roman Reigns won what was probably the worst Royal Rumble in years, Undertaker never showed up in person, Goldust and his brother Cody Rhodes aka Stardust never got the run they deserved, Daniel Bryan and Dolph Ziggler were completely underutilized and I was still reeling from Lesnar beating the Undertaker last year.
My expectations were not high heading into this event. But regardless of the build-up I will always remain a loyal viewer of WrestleMania and last night the event over-achieved completely.
Highlights:
The main event.
Roman Reigns was challenging Brock Lesnar for his title and the match was the perfect storytelling match these two could have put on. Lesnar dominated and beat down Reigns with a number of suplexes, F-5's (his finishers) and hard-hitting blows. It set the tone perfectly that Reigns would have to dig deep and that he did. In true underdog fashion he threw Lesnar against the post outside and when the busted-up champ came back into the ring Reigns landed his finisher, a superman punch, a number of times to drop The Beast Incarnate. With the two men exhausted and lying on the canvas in ran Seth Rollins to cash-in his money in the bank briefcase (a stipulation where the holder can enter a championship fight at any time) and after a couple of exchanges he stole the belt by pinning Reigns to capture his first title and end the night shockingly but perfectly.
Triple H vs. Sting
The match was on too early in the night for my liking, I think it was the third match. However, the build-up between the two was good and I was excited mainly because this was Sting's first ever match in the WWE. Triple H made a weird terminator style entrance while Sting had a random Japanese drum entrance.
My expectations for Sting's capability in the ring was not high as he is 56-years-old but he moved great and was in good shape. There were not many big high moves and it was a slow but technical match with a couple of good spots and exchanges. Then things took a surprising turn as D-X (Road Dogg, Billy Gunn and X-Pac) ran down the ramp to aid Triple H. Sting fought them off for a bit but then was overwhelmed. Then the NWO (Kevin Nash, Scott Hall and Hulk Hogan) came out to even the odds help their old WCW enemy Sting. It became D-X vs. NWO for bit and I am perfectly delighted in seeing that. These two factions were the biggest things in pro-wrestling years ago but never met. Shawn Michaels then came out of nowhere to give Sting the sweet chin music (ie kick him in the face) but he survived.
After a little bit more of exchanges Triple H hit Sting with the sledgehammer and scored a pin. Both sides stood in the ring opposite each other in what was (for me) a surreal moment.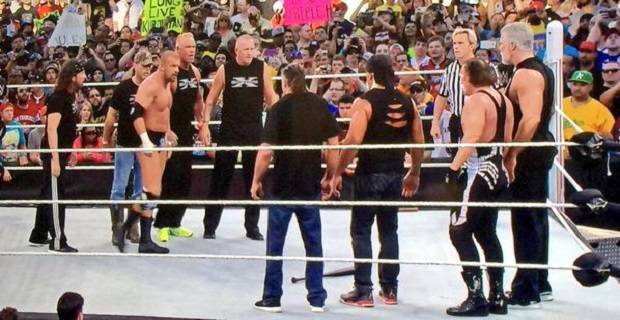 The Rock & Ronda Rousey beat up Triple H & Stephanie McMahon
Late in the night Triple H and Stephanie were out gloating and boasting before The Rock interrupted and came down to the ring. Himself and Triple H went face to face before Stephanie butted in and slapped The Rock.
He then went ringside to get UFC champ Ronda Rousey, as he couldn't hit a girl. The foursome were then in the ring and went head to head with Rouse hip-tossing Triple H and getting Stephanie in an over-under arm-lock. The WWE pair then ran back up the ramp away from The Rock and Rousey.
Results:
Seth Rollins captured the WWE title beating Roman Reigns and Brock Lesnar.
Undertaker def. Bray Wyatt.
John Cena captured the US title beating Rusev.
AJ Lee & Paige def. The Bella Twins.
Triple H def. Sting
Randy Ortan def. Seth Rollins
Daniel Bryan captured the IC title beating Barrett, Ziggler, Stardust, Luke Harper, Dean Ambrose, and R-Truth in a ladder match.
Big Show won the Andre The Giant Battle Royal.