In the midst of the commercial blockbuster that is Mayweather vs. Pacquiao, mixed martial arts was in the headlines, but not for the right reasons. Jon Jones was involved in a hit-and-run accident leading to him being stripped of his world title and his eventual indefinite suspension from the UFC.
It's a bad situation for everyone. There's no doubt about it. Everyone suffers — the UFC, Jon Jones, Jones' family, and the fans. We especially cannot forget the unfortunate pregnant woman who was left injured by Jon Jones' blunder.
With that being said, if we could pick a silver lining from an incident which has very little upside, it could be that the light heavyweight division itself may thrive.
To reiterate, I'm not declaring what happened was a good thing for the Ultimate Fighting Championship. Losing your pound for pound king and divisional champion, especially in circumstances like this, is never a good thing. Especially when, statistically, he is one of the companies major bread winners in terms of pay-per-view unit buys.
However, this scenario reminds me, in a much less extreme circumstances of when George St. Pierre semi-retired/took a break from fighting and the welterweight division.
Do you remember the George St. Pierre era? It was ridiculously impressive, to say the least, for sporting and financial reasons. He was waving away opponents with considerable ease, apart from a few notable battles near the end of his reign, and for the most part he looked unbeatable. Many of his opponents were looked at as pawns by fans; pawns used for George St. Pierre to showcase his varied skill-set.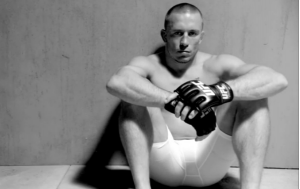 That wasn't the intention by the promotion, however, these were deserving contenders. He was just that good.
As much as we miss George St. Pierre's excellence inside the cage, and as much as the UFC brass miss the big business that he brought outside, it's hard to argue that the top of the UFC's welterweight division got that little more interesting and exciting
I mean, who the heck knows who will be champion in 6 months time? We've had two different champions including: a resurging Robbie Lawler, and some bearded country boy with a left hand carved from stone. We've had a championship fight of the year (and one for the Ages); and a Canadian Psycho, no I mean The Red King, I mean Waterboy, Rory McDonald, who are all vying for the crown.
Before this latest debacle with Jones, he was in a similar situation. He has been cruising past top contenders for fun, with a few speed-bumps along the way, and he didn't look like losing. Happy days for the Jones household. Of course we cannot forget, bringing in our ol' adage, that anything can happen in MMA. However, with Jones out of the picture, we are now in uncharted territory in the UFC's light heavyweight division, and really anything can happen.
All bets are certainly off.
It's quite unfortunate that we won't get to see the pound for pound best compete any time soon — it truly is — but if the UFC's current crop of light heavyweight contenders can step up to the plate, we could witness some very interesting moments in the coming months, and it all starts with Daniel Cormier vs. Anthony "Rumble" Johnson at UFC 187.