UFC and TUF:Smashes veteran Benny Alloway (12-5) fights for the first time since his UFC release and he will be fighting at Cage Warriors 65 against Jack Mason (26-12). Alloway has joined up with #WHOATV and will be providing a weekly blog leading up to his fight on March 1st in Dublin, Ireland. (above image comes via rectangleimages)
A new beginning:
So let's get right into it. My UFC release…I felt shit! It was expected. I actually expected to get released after my fight in Sweden so I was lucky to get another fight. It was painful, it was sort of the end of the dream for that time.
I took a few months off doing a small bit of training but mainly spending time with friends and family until I came to the decision that I wanted to get back to the UFC. So that is what I am going to do now, I am gonna try and get back there. I think the break has been good for me both mentally and physically.
Last year was kind of a crazy year for me. My baby boy growing up and me learning to be a father and then the UFC, so it is has all kinda calmed down now. I am a bit more relaxed with life and I am a bit more mature as a person so hopefully that shows in the cage.
So why did I go back to Cage Warriors? I had a few offers from promotions in Australia and also with Legend FC but wanting to get back to the UFC my manager and I thought that Cage Warriors was the best promotion to go with. They are one of the benchmarks outside the UFC and if you want to get back to the big show then Cage Warriors is one of them promotions that can certainly help with that.
Being offered to fight in Ireland was cool, I have always wanted to go there. My uncle is Irish and I've wanted to go there and drink beer. Hopefully we get this victory and I can celebrate with a few Guiness' after.
I am fighting Jack Mason. I don't think he is a very exciting fighter. From the fights I have been able to see he tries to play the points game and then he goes for the takedown at the end of the round to score the win. He's a pretty accomplished ground fighter judging by his record. Lately he has been a decision kind of guy whereas I like to finish and be exciting in my fights.
We are just a contrast of styles so hopefully it is an exciting fight.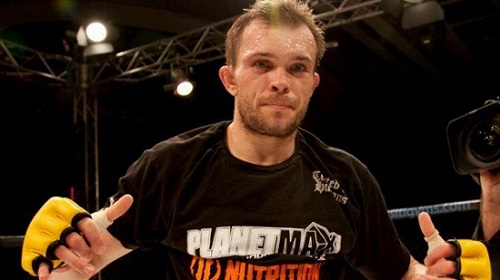 Since the UFC I have also moved to the other side of the country to work for my brother at an iron ore mine. It is a change, it is crazy actually. There are thousands of people on site, massive machines everywhere and trucks, it's pretty full-on. Not what I am use to but it's cool, I am learning and seeing something different. My brother has been here for 8 years so he has been able to show me the ropes. He makes me work hard but he made it easy to get time off work. He is also really into me fighting and was going to come over to watch me fight but he has to stay and work. All the boys will be able to watch me fight while they are having their breakfast.
It is a tough week here. I am training from 4am to 5am in the morning, then working all day and then back training 6pm to 8pm in the evening. Still doing all my disciplines, my boxing, my BJJ, my muay thai etc. I'm sure I'll be in pretty good shape for this fight.
My family are still living on the East Coast and I get to go home for 7 days each month. It has been hard to be away from them but it makes it better for when I get back, I make the most of my time with them.
Next week I will talk a bit more about training and work and whatever else pops into my mind. Make sure to follow me on twitter @bennyblancomma.