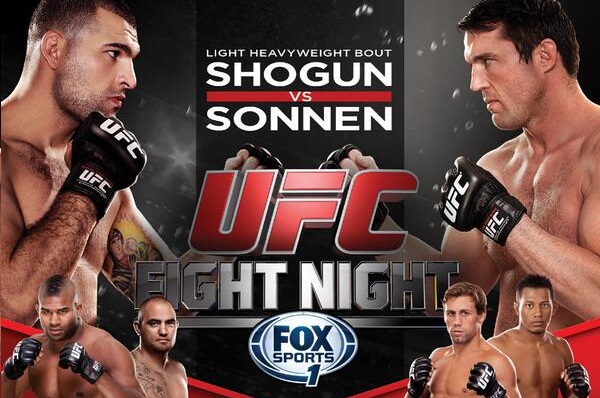 Arguably one of the best UFC events happened this past weekend. UFC Fight Night 26 took place in Boston's TD Garden arena to a packed house and kicked off the new Fox Sports 1 channel. Here we take a look at some of the fighters stock as a result of their performances;
Chael Sonnen def. Mauricio "Shogun" Rua via submission (guillotine choke), round 1, 4:47.
Chael Sonnen: it is sometimes hard to remember how good "The American Gangster" really is. We get caught up with his pre-fight speeches and showmanship that we forget how good he is, we were reminded five seconds into the fight when he came out and got the power double-leg takedown and the tone was set. Sonnen is now 6-3 in his past nine fights, but those three loses are by the hands of Anderson Silve and Jon Jones i.e. the worlds two greatest fighters. This win is a nice reminder of Sonnen's abilities, his stock goes up.
Shogun: the first time ever the former UFC champ has suffered back-to-back loses in his career, he has struggled as of late and is now 5-6 in the UFC. The 31-year-old needs something drastic to happen to get back on track and is now well away from title contention. Shogun's stock goes way down.
Travis Browne def. Alistair Overeem via KO (head kick, punches) , round 1, 4:08.
Travis Browne: what a performance coming back from the brink to KO'ing "The Reem". Browne racked up another highlight reel KO and puts himself into title consideration, his stock goes way up.
Alistair Overeem: two KO loses in a row and Overeem finds himself in familiar territory (see 2007). He had a lot of hype coming into the UFC and even more following his win over Brock Lesnar. It is said he has a bad chin, something you do not want to have in the UFC heavyweight division, and this KO further cements this. His stock plummets way down, but his marketability means he will be given high profile fights against some of the big name veterans that are currently in the UFC ie Frank Mir, Mark Hunt, Josh Barnett, Big Nog etc.
Urijah Faber def. Yuri Alcantara via unanimous decision (30-26, 30-26, 30-27).
Urijah Faber: good performance from the "California Kid". It is hard to shake off the fact that he has lost his last five title fights (WEC & UFC), but he is currently on a three-fight-win-streak and needs to continue winning fights before justifying being given another title shot. Faber's stock is slowly climbing.
Yuri Alcantara: despite this being the sixth fight in the UFC for the Brazilian he is a rather unknown amongst UFC fans. His performance in the first round was rather impressive and looked good in loosing, plus it is not considered a bad thing loosing to someone like Faber. Despite the loss his stock goes up slightly due to the fact more people know his name now.
Matt Brown def. Mike Pyle via KO (punches), round 1, 0:29.
Matt Brown: the dark horse of the welterweight division racks up another highly impressive win over another dark horse in Mike Pyle. Brown now rides a six-fight-streak and has called out GSP. Sadly, he will not get a crack at GSP yet, simply because he hasn't got that big name win. Despite winning six in a row he hasn't built up that "fan name" yet. Just ask yourself this, Matt Brown is signing autographs down the street but so was Dan Hardy, who would the fans flock too first? Dan Hardy would be the choice even though he is 2-4 in his last six fights. Unfortunately for Matt Brown his stock only goes up slightly.
Mike Pyle: similar situation to Brown's, great fighter but very underrated. Most wouldn't realise he was on a great win streak too. Fortunately for Pyle, he won't have lost too much stock from this loss as both fighters will still be lumped into that "mid-tier" grouping of UFC welterweight. His stock goes down slightly.
John Howard def. Uriah Hall via split decision (30-27, 28-29, 29-28).
John Howard: brought back into the UFC to be fed to the wolves, only he wasn't. Howard's stock, unfortunately for him, stays the same mainly due to the high-fives and that he beat Uriah Hall, a fighter dubbed "not a fighter" by Dana White.
Uriah Hall: his stock goes rock bottom simple as, bad performance followed by a that Dana White statement mentioned above. Fall from grace since impressing in the TUF house.
Michael McDonald def. Brad Pickett via submission (triangle), round 2, 3:43.
Michael McDonald: it is always hard coming off a loss, especially when that loss was for the UFC title, but McDonald cements himself as one of the best in the world and considering his age (22) the future of the UFC. His stock goes way back up.
Brad Pickett: a fighter who always comes to fight. Even in loosing he continues to win over fans and the UFC. Winner of an incredible four UFC FOTN awards Pickett's stock has been split into two categories; entertainment- his stock goes up and fighter ranking- his stock goes down slightly, and it is hard to judge which the UFC look at when making important matches.
Conor McGregor def. Max Holloway via unanimous decision (30-27, 30-27, 30-26).
Conor McGregor: he might not have gotten the win he wanted but considering what happened in the second round he got praise from the fans, media and Dana White. His stock continues to rise at a rapid rate.
Max Holloway: he got dominated in every aspect of the fight. Usually this would mean a great drop in stock but don't forget he fought the "Notorious One", no shame in losing in such a way to a fighter being built up in such a fashion. His stock goes down slightly.