With a card stacked with Brazilian fighters, UFC Fight Night 36 takes place this Saturday at Arena Jaragua, in Jaragua do Sul, Southern Brazil.
It may well be flying under the radar in most territories outside of Brazil but we can expect another sold out event as the sport of MMA is still experiencing vigorous growth in the country and fans will have the chance to witness several interesting matchups.
The main event pitches former Light-Heavyweight champion Lyoto Machida against the dangerous Dutch striker Gegard Mousasi. The winner of this fight should be first in line for a shot at the middleweight title.
MMA fans all over the world are eager to see more from Mousasi after his lackluster performance in his UFC debut against Ilir Latifi. "The Dragon" might just be the perfect opponent for him to change that bad first impression drastically. In order to achieve that however, Mousasi will have to overcome Machida's elusive, counter-striking style.
Machida may not be as big a draw in Brazil as the likes of Anderson Silva, Vitor Belfort or Jose Aldo, but he can still count on the appreciation of the fans of his strategic approach to fighting in the octagon, especially in his home coutry.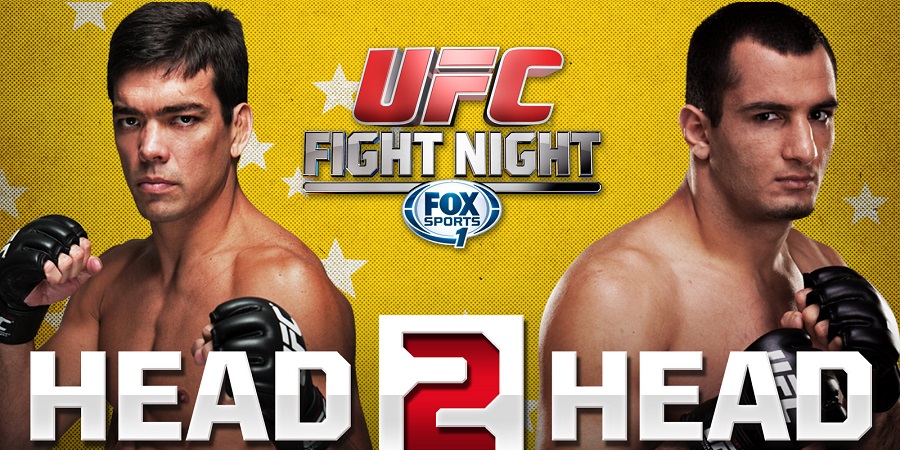 Also making a case for himself in the chase for the middleweight belt is BJJ ace, Ronaldo "Jacare" Souza. He will be facing Francis Carmont, still unbeaten in the UFC. The Frenchman has made it clear that he has no plans of turning this fight into a grappling match against Souza. Getting a help from one of the greatest masters of the takedown defense, Georges Saint Pierre, in his preparation for this bout, has made it that much clearer.
Fan favorite Erick Silva was doing pretty good in his last fight against Dong Hyun Kim at UFC Fight Night 29, before he got dropped by a punch from the Korean, forcing the home crowd in Sao Paulo to give his talented and brave foe a standing ovation. This time, "Indio" will be up against Japanese Takenori Sato, who's been unbeaten in his last ten bouts and is making his UFC debut.
UFC Brasil 2 Alumni, Viscardi Andrade will try to extend his winning streak to eight fights as he faces Swedish standout Nicholas "Nico" Musoke.
Completing the main card is the fight between Charles Oliveira and Andy Ogle.
After starting his career by winning his first fourteen encounters, expectations were high for "Do Bronx". As the level of competition raised, Oliveira's record saw a few ups and downs and he is now 4-4 in the UFC. At UFC Fight Night 36 he will be trying to bounce back from a two fight losing streak. His last bout was at UFC 162 against former lightweight champion, Frankie Edgar, when they earned the Fight of the Night bonus. Facing Charles Oliveira and the loud Brazilian crowd will be Englishman, Andy "The Little Axe" Ogle.  Ogle is also coming from a loss, against Cole Miller, at UFC Fight Night 30, so stakes are high for both men coming into this one.