Paul 'Semtex' Daley, arguably Europe's number one welterweight striker takes on Fernando 'The Menifee Maniac' Gonzalez when Bellator pitches up at the SAP Center in San Jose, California. It will be the first hybrid show on September 19th which will see its interesting co-promotion with kickboxing outfit GLORY. The event entitled 'Dynamite' will see action in both the Bellator cage and GLORY's ring under one roof.
It will be a welcome return to kickboxing for 'Semtex' who in usual fashion will undoubtably be hunting for a spectacular finish. No doubt a way of easing Daley back into the kickboxing fold the match up with Gonzalez, a fellow Bellator competitor, makes sense as, according to the heavy hitting Brit, he won't be taking him lightly. "Gonzalez is tough, a great boxer, he can kick and is a switch hitter." All of which will ensure we'll be watching a game opponent on September 19th.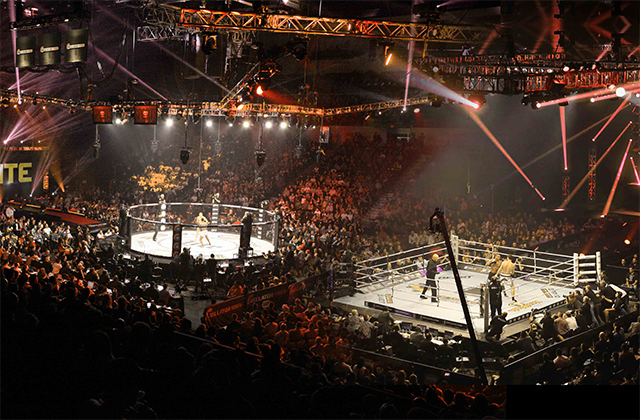 Gonzalez being a 'game opponent' is somewhat of an understatement as the former WBC Muay Thai National champion has previously dismantled Karl Amoussou, Karo Parisyan and Marius Zaromskis. A heavy hitter with undeniable knock out power in both hands he is a more than worthy opponent who will look to add to his recent spate of wins with a huge scalp should he defeat Daley.
In recent weeks the keen combat fan would not have missed Glory's newly crowned welterweight champion Nicky Holzken gunning for 'Semtex' via social media. Surely this would have been the more pertinent fight to make first. Daley is keen to assert that he plays his position and leaves the matchmaking to the matchmakers. "I don't call the shots. I want Holzken. I want both Bellator and GLORY belts! Now that he called me out I really want to fight him. I hope one day it happens."
With the recent signing of Josh Koscheck it is inevitable, given their previous history, this is a matchup made in a heaven, a fight which Daley is keen on "The crotch-check fight will happen soon. I feel he needs to get a win at Bellator first."