If you asked the MMA community who Pat Cummins was last week most would've cluelessly shrugged their shoulders. The chances of the 4-0 one-time Strikeforce fighter being referenced were slim. But that has changed. The former barista takes on Daniel Cormier in the co-main event of UFC 170, and even though the bookmakers are giving him little-to-no chance, Pat Cummings has made it his responsibility to leave a mark – win or lose.
Cummings was just three days employed at his new job as a barista when Rashad Evans pulled out of his fight with Daniel Cormier at UFC 170. Cummings manager, Ryan Parsons, text him following the incident, and Cummins immediately said that he would take the fight. However, it wasn't that easy. Cummins wasn't signed to the promotion, so he did what anyone would do: he took to Twitter.
He made as much noise as a 4-0 relatively unknown fighter could, and he eventually caught the attention of Dana White when White heard the now-infamous story of Pat Cummins making Daniel Cormier cry in the wrestling room. White contacted Ryan Parsons and asked to speak with Cummins. He got offered the fight and is now set to make his promotional debut as one-half of the pay-per-view's co-feature.
As unfortunate it is for the viewers and ticketholders who expected Daniel Cormier vs. Rashad Evans but now have to settle for Cormier and an unknown debutant – it's a huge opportunity for Cummins, and he's grabbing this opportunity by the horns.
This situation has parallels with a UFC event held in Sweden last year. Gegard Mousasi was set to debut in the promotion against Alexander Gustafsson; however, injury struck and forced the Swede out of the bout. It was just a few days out, and Mousasi was left without an opponent. The UFC were clawing somebody in their ranks to fight the former Strikeforce champion, but they were forced to look outside their roster. Ilir Latifi stepped up, a training partner of injured Gustafsson. Mousasi dominated Latifi for three rounds to a unanimous decision.
However, the difference between the two instances is that this time the preverbal lamb to the slaughter is actually making the fight somewhat interesting. It should be noted that Latifi is Swedish, and his lack of English hampered his ability to hype the fight. He should be given a pass for that. But I applaud Cummins for laying down his marker.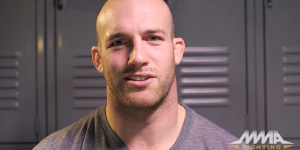 It would've been easy for Cummins to come in and immediately pull from the generic cliché's that fighters often use. But he didn't. He realised that he's an unknown, and that he shared the responsibility to promote the fight. His remarks about making Daniel Cormier cry, his confidence (or arrogance to some people), and his outspoken nature have made headlines. This was his intention.
The crying allegations were debunked by Cormier citing that it was personal problems, including the tragic loss of his daughter in 2003, that attributed to the aforementioned incident; however, Cummins didn't hold back. He mocked Cormier's weight, saying that he can't wait to receive a percentage of his purse when he misses the 205 limit.
It's interesting to see how many fans dislike him now, even though they probably had no idea who was until the announcement of Rashad's replacement; but it's not surprising. I mean, how dare a nobody come in and claim that he is going to win a face punching contest against a top-ranked UFC contender. How dare he make light of Cormier's weight cut. How disrespectful of him.
I am being sarcastic, of course. Sure, it's one of the major taboos in our sport to speak about sparring. It's a no-no. But this is fighting and it can't always be rainbows and sunshine – that's boring. But most fans don't see it that way, and that's a good thing – especially in this situation. Cummins has moulded himself into the heel, with Cormier taking his place as the babyface – the good guy. Take a look at any YouTube video of Pat Cummins since his controversial interviews; he can't buy a 'like', but at least people care.
Fighters don't do this enough. The UFC get a lot of criticism for their lack of stars, and their inability to create stars. But some of that criticism should be aimed at the fighters. Why does Floyd Mayweather make multiples of millions per fight? It's not his fighting style, and his record of being unbeaten in 45 professional bouts does help. But it's his mastery in the business aspect of prize fighting. Mixed martial artists haven't embraced this yet, aside from a small minority. It's questionable if Cummins intended to get this reaction but that's irrelevant at this point; he has embraced it and is running with it.
Despite this, it is unlikely that it will positively affect the pay-per-view buy-rate in any significant way. The weight of the pay-per-view firmly lies on Ronda Rousey's shoulders, and truthfully, the loss of Rashad Evans will probably negatively impact the numbers. But Cummins attitude and endeavour won't hurt it; besides, maybe fans will actually be able to decipher him from the rest of the non-ranked fighters on the UFC roster.