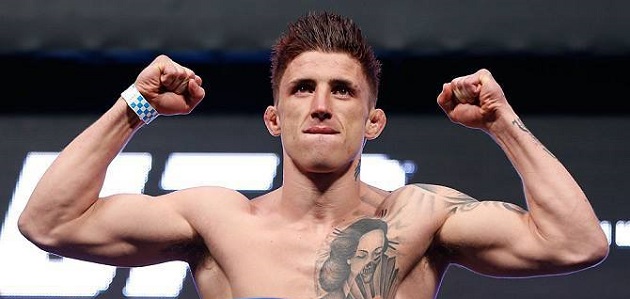 Norman Parke (18-2) will be fighting for the first time in the UK as part of the UFC. The man from Bushmills Northern Ireland is the winner of 'TUF:The Smashes' defeating Colin Fletcher in the finale.
In his second fight he beat Kazuki Tokudome over three rounds to get a unanimous decision win over the tough Japanese fighter.
This time out he faces the undefeated Jon Tuck (7-0), whom he was already scheduled to face before Tuck pulled out due to injury. Now the pair will finally go head to head on October 26th in Manchester and Parke is relishing the opportunity fighting so close to home. "I'm totally buzzed to be competing in Manchester!" said the lightweight. "I've fought there once before but this is on a much bigger scale. My family and friends will be coming over which makes it that extra special."
Parke knows the task at hand very well saying "Jon is a great fighter with great Jiu-Jitsu skills, I'm really excited about this match up!" Tuck is also a product of the Ultimate Fighter having competed on season 15. The last time Tuck was in action was almost a year ago at UFC on 'Fuel TV: Franklin vs Le' in a winning effort over Tiequan Zhang.
The Next Generation NI fighter will once again do most of his fight camp in Team Alliance in San Diego and he says he already feels the benefits of training so far from home, "yeah I feel my game has improved a good bit, I know I have a lot of tools there. I can fight technical, I can fight smart, and brawl if I have to, " said Parke. "Alliance did bring a lot of my confidence out, training with a lot of UFC and other high calibre guys at my weight is helping bring out the best in me. I feel I'm improving as each fight goes on and my confidence is getting stronger and stronger. Jon Tuck has a really tough fight ahead of him that's for sure! And one thing I do know is that I WILL be going 3-0 in this promotion!"
One thing that has been brought up a little was that Parke has yet to finish an opponent in the UFC, although he came very close several times against Tokudome but somehow the Japanese fighter battled through. Will there be any pressure for Norman to get the finish? "To be honest I really don't care if it goes to a decision!" said Parke. "I always go out with the intent to finish the fight and I also like to think I'm exciting enough that the fans get there money's worth. If I hurt him, I will put him away anyway physically possible!"
Follow Parke's journey to his next fight by 'liking' his Facebook page and on twitter @norman_parke.