Rewind to March 22nd 2014 and Cage Warriors were gearing up to crown a new 170lb king with both Nicolas Dalby and Sergei Churilov competing for the strap at the Ballerup Super Arena in Denmark. In what was a very competitive fight for the first three rounds it was when the bout entered the championship rounds that Dalby was able to accelerate and really push the pace. And when Dalby spotted his opening he was able to land a highlight reel head kick which sent Churilov crashing to the mat and the Cage Warriors Welterweight Title back home to Denmark.
In what was only his twelfth professional fight Nicolas Dalby is now the Cage Warriors Welterweight Champion which is something that hasn't still really sunk in. "I don't think I have really understood it yet. I still feel like everybody else when I go grocery shopping. But it's an amazing feeling. Maybe when I come to Newport and see how the British fan base greets me that will change. Or maybe not."
For the Champion Dalby, he will be put straight into the firing line when he steps up to defend his title for the first time at Cage Warriors 72 in Newport, Wales against Gael Grimaud. Grimaud a former champion himself has only lost once in his last eleven fights, and Dalby definitely is not overlooking the Frenchman ahead of their fight. "Gael will be my toughest fight of my career so far. He is a very crafty veteran of the sport so I can't wait to square off against him. Im preparing for five rounds as I did last time. And of course I have prepared myself to exploit Grimaud's holes!"
The fight will not only mark the first defence of Dalby's title but also will be the first time the Dane has fought outside of Denmark. But not through lack of trying and it was back in 2011 when Dalby was very close to securing a contract which would of seen him fight abroad. The deal ultimately didn't come to fruition, but for Dalby he had always known that the opportunity to fight abroad would come if he continued his win streak. While fighting a former champion in a foreign land may send the heebie-jeebies through some, Dalby is not phased by the pressure of a Title fight. "I always see myself as the underdog because that is how I motivate myself in the best way. Once we are in the cage being a Title holder or not doesn't influence on what I bring to the fight. Im still the same fighter with the same drive to always deliver my best performance!"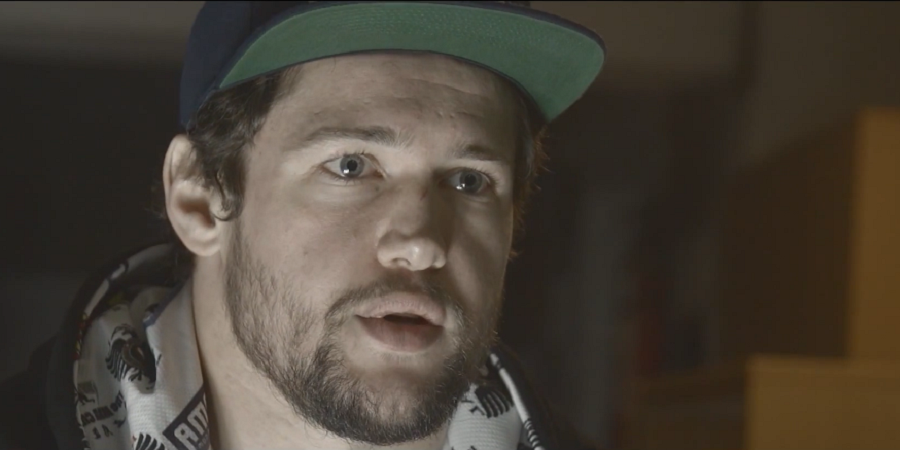 Dalby's spectacular head kick KO which saw him crowned Champion will be forever etched on his memory but he won't be gunning to pick up one of the recently announced £2k bonuses which Cage Warriors CEO Graham Boylan has announced at the detriment of maintaining his Title. "I will never go for something that could endanger a win just to get a bonus. The end result comes first. Hopefully my training will make it possible for me to finish the fight in an exciting fashion and maybe even in a way that ends in me getting a great bonus!"
The Scandinavian fight scene at present is certainly on the face of it starting to pick up traction and with the likes of Alexander Gustafsson getting his rightly deserved publicity in the upper echelon of the UFC Light Heavyweight division that can only be a good thing for the building foundations of the sport in the likes of Denmark. But Dalby has a completely different opinion and perspective on how things are actually going down in Denmark specifically. "It actually feels like it's MMA is at an all time low right now! There is only one regular professional event in Denmark and they are only having about two events a year at the moment. I don't count Cage Warriors as regular yet as it has yet to be seen when they will have their next events here. It's quite depressing. Three years ago we had two to three big shows fighting for attention and had a couple of MMA specific websites covering the sport. Now there is only one website left and that one is pretty dormant."
But Denmark isn't all doom and gloom and Dalby was quick to give us a heads up on some fighters coming up through the rankings at Rumble Sport who we should definitely be keeping an eye out for. "Damir Hadzovic, Pannie Kianzad, Mathias Lodahl and especially Mads Burnell!"
Outside of the crazy world of MMA which sees Dalby spending upwards of 30 hours a week training, Dalby spends a lot of his down time taking photos. As a freelance photographer he spends a large portion of his time either shooting in the concert venue VEGA in Copenhagen or just taking shots of the day to day life in his city and Dalby feels that having a retreat from the sport of MMA is very important to help clear his mind. "It's great to have other stuff to do besides MMA. You can get a bit crazy if you are in the gym all the time. I have always done some photography but I was kind of getting lazy with shooting pictures and challenging myself on that front. But over the last half year I have began to get creative again and shoot more and do more creative stuff."
Being given the insight to Dalby's personal life outside of training and fighting you would bet your bottom dollar (well I did anyway) that his nickname "The Sharpshooter" had some kind of link into his favourite hobby of shooting photos? Well apparently not. Dalby describes how the name came about and credits his head coach Tue Trnka for it. "He gave me the name because he thinks that I am like a Sharpshooter when I train and fight. He thinks I'm like a very precise weapon that can look effortless when I snipe my opponents."
Nicolas would like to thank "All my coaches, Tue Trnka and Mats Nilsson! Thanks to all my training partners who have put up with me during the training camp. Especially Patrick who has really taken one for the team. Thanks to Dan and Mehrdad from London. Thanks to my family for the support and last but not least thanks to my loyal sponsors, Adamsens Fisk and Fit4Fight!"
Be sure to follow Nicolas on twitter @DalbyMMA
Credit to Palle Schultz for the featured picture!