He may not be a household name (yet) but Nicolas Dalby (12-0) has all the potential, and then some, to make it to the top of the sport. I went into Cage Warriors 66 on Saturday evening with some anticipation to see what this Dalby lad has to offer and boy was I not disappointed.
I had not heard of him before but after some slick videos (check this out) and promotion about the 29-year-old it made me look into him. This was he Cage Warriors debut and from looking at his record he was 11-0 on the local Nordic scene and the only fighter on his record I had any knowledge of was Ivica Truscek (24-20) a tough Croatian and Dalby had beat him twice.
His opponent and the other person also vying for the title that was vacated by Cathal Pendred was Ukrainian Sergei Churilov (15-2), who by coincidence had only ever been beaten by one Ivica Truscek. Chrurilov would be a tough challenge for anyone there is just something about those Eastern European fighters that you know they could be capable of handing out and withstanding punishment.
The first three rounds were pretty much back and forth with both warriors landing and putting together combinations but neither looking in too much danger, until the forth. Dalby landing a perfect floating headkick that clipped Churilov on the jaw and sent the Ukrainian across the canvas and into a ball as Dalby finished up reigning down punches until the ref stepped in.
So it seems the Cage Warriors welterweight division is in good hands with its new champ.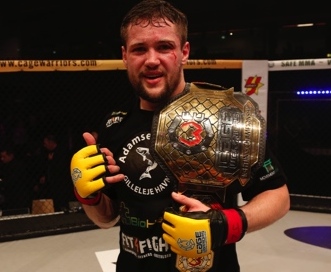 And we have the stunning finish for you to enjoy below, enjoy!