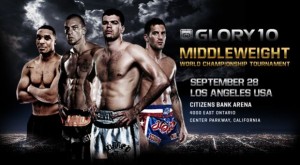 The much anticipated GLORY 10 in Los Angeles is set to take place on Saturday, September 28, 2013 at the Citizens Bank Arena in Ontario, California. 
After a few changes in the line-up, the current card is as follows:


Main event:
Robin van Roosmalen vs. Shemsi Beqiri
Co-main event
Davit Kiria vs. Murthel Groenhart
Middleweight Tournament:
Joe Schilling vs. Kengo Shimizu
Artem Levin vs. Jason Wilnis
Reserve Bout:
Wayne Barrett vs. Rob Plotkin
Superfights:
Aleksandr Stetsurenko vs. Karapet Karapetyan
Brice Guidon vs. Jahfarr Wilnis
Andy Ristie vs. Niclas Larsen
Brian Collette vs. Randy Blake
Albert Kraus vs. Ky Hollenbeck
Johann Fauveau vs. Hinata Watanabe
Those in attendance can look forward to some exciting undercard bouts featuring some of the best and brightest in the California kickboxing/Muay Thai community.
The main event features the young Dutch star, Robin van Roosmalen against Shemsi Beqiri.  What can be said about the Dutchman that already hasn't been said in the days leading up to this event.  Van Roosmalen is an aggressive fighter who at twenty-three years of age has faced some of the best in his weight class.  In the ring, Van Roosmalen is the master of the low kick and also uses his mastery of Judo.

His hard hitting style will be a challenge for the Swiss-Albanian Beqiri who, although more experienced than Van Roosmalen is a relatively newcomer to the Glory stage. Beqiri is known as an energetic and hard hitting fighter.  He will need these skills as he faces the man who also displays boundless energy in his fights.  Beqiri's background in Muay Thai will be a necessary defensive tool in this bout as van Roosmalen has proven to dangerous with leg kicks and shots to the body.  No matter the outcome between the number 2 and number 9 seeds, this match up is guaranteed to be exciting and action packed
Due to changes in the original card, the co-main event features a bout between Murthel Groenhart and Davit Kiria.  Last year the Dutchman, Murthel Groenhart shocked many kickboxing fans with his sweep of the K-1 World MAX 2012 World Championship Tournament Final in Athens. In this tournament,  he KO'd his way through opponents  Yasuhiro Kido, Mike Zambidis and  team mate Artur Kyshenko. On September 28th in Ontario, California, "The Predator" faces the Georgian born middleweight, Davit Kiria.
This fight promises to be an exciting match-up as Kiria is a Black belt in Ashihara Karate, has good boxing skills and often utilizes some non-standard punch-kick combos.  It's questionable, however, whether this will be enough to stop Groenhart who won all six of his fights in 2012 and only recently fell to Robin van Roosmalen at GLORY 7 in Milan.  Groenhart is the most experienced of the two fighters and when on his game, is an explosive fighter who has great knees and uses them to bombard his opponents with vicious body shots.  He also has great high kicks that have been used on numerous occasions to KO his opponents.
Enjoy the fights folks and then let's get ready for GLORY 11 in Chicago!