The Stats
Diego Brandao
18-9
8 KO wins
5 submission wins
4 decision wins
5 KO losses
1 submission loss
3 decision losses
Conor McGregor
14-2
12 KO wins
1 submission win
1 decision win
2 submission losses
If you have had your head in the sand for the last 48 hours chances are you may have missed the fact that Cole Miller has pulled out of his fight with Conor McGregor and has been replaced by Diego Brandao. With all the hype surrounding the Miller/McGregor match up it's undoubtedly a big loss for the card but the UFC have been very reactive in organising a replacement. The card is still over a month away so there is still a lot of time for the hype to be built between McGregor and Brandao. With all fights there are always a number of questions which ultimately won't be answered until the two fighters get in the octagon but a few of my initial questions which I hope to answer are;
Does Brandao pose more of a threat than Cole Miller?
Will ring rust affect McGregor?
Can McGregor get inside Brandao's head?
Is McGregor fully healed and fight ready?
Who has the better endurance?
Will Brandao make weight?
So let's start with a bit of background on Diego Brandao.
Brandao is probably most famously known by MMA fans as the Brazilian guy who won The Ultimate Fighter 14 by submitting Dennis Bermudez. But you may also know him for his recent spat with Dustin Poirier prior to their fight at UFC 168, which Poirier went on to win by knockout. Brandao spent a lot of time early in his career fighting in Brazil and amassed a record of 7-3 during the period between 2006 and 2008 but he scored one of his biggest career wins when he made his MMA debut on US soil, knocking out UFC veteran Brian Foster for TAP Entertainment. But following the win over Foster, Diego hit a rough patch going 3-4, leaving his overall record at an unimpressive 11-7.
But things soon picked up for the young Brazilian and I think the underlying factor in his success can be attributed to his decision to become a fully pledged member of Jackson's MMA in Albuquerque. Diego picked up three wins on the bounce ahead of being announced as a member of the Ultimate Fighter season 14 cast. The show proved to be a big success for him and he defeated Jesse Newell, Steven Siler and Bryan Caraway all by KO to earn himself a spot in the final. The show also highlighted his emotional side and he got into a number of confrontations with Steven Siler and Marcus Brimage throughout.
Brandao is a very intense fighter and has been shown to get very emotional in the run up to the fight including at the weigh-ins which can be seen as good/bad depending on how he channels those emotions on fight night. In his last fight with Poirier there was a lot of bad blood and claims that Diego had threatened to "stab" Dustin. What was also interesting in this one was the fact that Brandao missed weight by seven pounds, that's a huge miss and perhaps showed his inexperience or perhaps that he was too emotionally involved? We will never know but it's certainly an area which McGregor should be able to expose.
And so we move on to some background on the notorious Conor McGregor.
Based purely on the numbers it is no secret that McGregor backs up his talking in the cage and is always looking for the finish. Fourteen wins. Twelve wins by KO. One win by submissions. One win by decision. It doesn't get much better than that to be honest. McGregor was also a two weight division champion for European promotion Cage Warriors Fighting Championship, holding both the Featherweight and Lightweight title.
McGregor started his career in his native Dublin, Ireland picking up a record of 4-1 before being signed to Cage Warriors to take on Joseph Duffy. At the time of that fight Duffy was 6-0 and coming off of a win over Norman Parke. The fight obviously didn't go McGregor's way and his rushed start was the beginning of the end as Duffy was able to take him down with ease and then man handle the Irishman on the ground before sinking in a tight arm-triangle choke.
But since that loss McGregor has switched things up and really pushed on in his career. Ten wins on the bounce with only one of them going the distance. His last ten opponents have a combined record of 72-22 (records based on all fights up until when they fought Conor) and he has amassed a total fight time in his last ten fights of forty three minutes and two seconds. McGregor is the second fighter from the Republic of Ireland to make it to the UFC (the other being Tom "The Tank" Egan who lost his only fight with the promotion to UK's John Hathaway).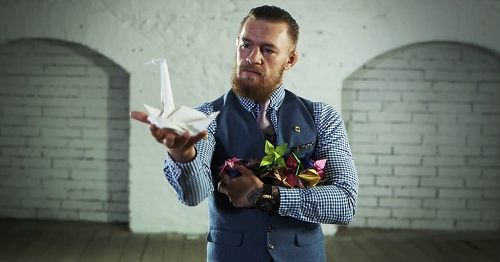 So what weaknesses, if any has McGregor shown to date? Well looking at his two defeats both of those came by way of submission which perhaps give future opponents a glimmer of hope should they be able to get him to the canvass. But aside from those two losses what other chinks in his armour have we seen? Well he has a habit of keeping his hands down when things are going his way which is always a dangerous habit to pick up but so far he hasn't been exposed. Does Brandao have enough knockout power to expose that?
One point to pick up on is that this fight will mark McGregor's return to the octagon following a recent ACL surgery. The fight takes place in July and his last bout was in August last year so will the dreaded "ring rust" play any part in this fight? Perhaps we are clutching at straws here but you never know.
This fight is scheduled as a five round fight and neither guy has fought for this long in their career. Brandao has more experience going the full fifteen minutes but that's only because McGregor tends to put his opponents away in round one. So who do you give the nod to if this one goes the distance? I suppose we will have to wait until July to find out.
There will be arguments back and forth about whether or not Brandao is a suitable replacement for Miller and I genuinely feel that he brings something completely different to the table. Miller is a submission specialist with 12 of his 14 wins coming by submissions so Brandao certainly offers something different from that perspective. Brandao is also very unpredictable which will get McGregor thinking a bit more. But then is Brandao as much of a name in the division as Miller is? I don't think it matters much either way as I feel that a win for McGregor against either Miller or Brandao will get him a top ten opponent next. Upon reflection for me this fight is a much closer fight to call and even though McGregor will go in as the favourite I think that Brandao certainly possesses more ability and skills to upset the Irishman than Miller does.
As always open to debate and very open to your questions/feedback and opinions in this fight. Hit me up on facebook or twitter @mmanarchy