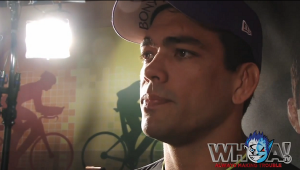 Last night it was announced that Lyoto Machida (20-4) will face Gegard Mousasi (34-3-2) at a show in Brazil on February 4th. Although Dana White said at the post-fight press conference in Manchester last weekend that Machida would be fighting Vitor Belfort next it seems that fight was never set in stone.
The replacement match-up, however, does still offer us one of those somewhat rare fights in MMA between two highly skilled and successful fighters. There is only one problem here, I don't think many realize it.
Everyone knows Machida and his credentials, the 35-year-old is a modern day Bruce Lee with flash KO power and urine drinking ability. Now his opponent Gegard Mousasi, to the masses he is the "Dutch fighter who looked underwhelming against a last minute replacement (Ilir Latifi) in his UFC debut".
Well lets look at his fighting credentials. Despite being only 28-years-old he has been fighting ten years professionally. "The Dreamcatcher" fought mainly on the local European scene for the first two years of his career until Japanese promotion Deep came calling. He then won his debut in Japan with a 10 second KO.
This prodigy then caught the attention of promoters around the world and by age 21 he had already fought in Pride three times, going 2-1 including a win over Hector Lombard, and won the Cage Warriors middleweight title.
After his Pride run he the fought in promotions such as M1, DREAM (where he became middleweight champ) and Strikeforce (where he became the light-heavyweight champ). This 15 fight unbeaten period over three years resulted in wins over Gary Goodridge, Mark Hunt, Melvin Manhoef, Ronaldo Souza, "Cyborg", Sobral, Denis Kang, Sokoudjou and more.
Then in 2010 at age 24 he then fought and lost his Strikeforce title to "King Mo" via unanimous decision. This would also prove to be his last defeat as he went on to win the DREAM light-heavyweight title. Over 39 fights Mousasi has never been KO'd and since leaving the local scene had only been stopped by Japanese legend Akihiro Gono in Pride.
However, this could be wishful thinking looking at both fighter records that this fight is a "superfight". Machida did open as a 3-1 odds on favourite to win this fight but there is a glimmer of hope in my eye that this fight turns out to be the spectacle it deserves to be.