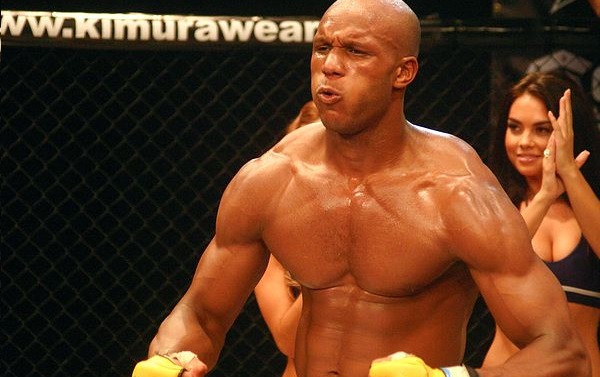 The UK invasion of Bellator continued recently after a number of Wolfslair fighters were snapped up by the American based promotion. Amongst the fighters signed was the current UCMMA light-heavyweight champ Linton Vassell (11-3).
Our own Alan Murphy caught up with Mr. Vassell to talk about signing for Bellator;
Alan: Hi Linton. You just signed for Bellator, how does it feel to sign for such a promotion?
Linton: Hi Alan, finally I'm signed by Bellator lol, it feels great to be signed by such a great promotion, I've been waiting a long time and all the hard work I have put in has paid off.
The past two years have been amazing for you. When did Bellator show their interest in you and what was your initial reaction?
Yeah I have had a amazing last two years, with a 6 fight win streak winning and defending my UCMMA LHW title, now it's time to show the states what I'm all about! Bellator showed a interest after my last fight on UCMMA where I defended my title and beat Zelg Galesic back in February. When I found out Bellator was interested I couldn't wait to sign the contract and fight.
Already you have a fight set for November 8th in Oklahoma. Is there any word of an opponent yet or have you any preference in who you fight?  
Yes Nov 8th is my debut, I do have an opponent but I will have to keep quite till Bellator announce it. Sorry guys.
You have only ever fought once outside the UK. Are you looking forward to fighting in America and what challenges do you think fighting so far away will pose to you?
I can't wait to fight in the states it something I have been looking forward to do for some time now so I'm really pleased it's coming up, I don't think that me fighting away from home will pose any challenges to me.
Bellator recently made a huge announcement of signing Tito Ortiz to fight Rampage, has the thought ran through your head that you could fight Tito at some time in the future?
Yeah that is a big fight and I'm looking forward to that one, Rampage is my teammate at Wolfslair so I'll be cheering for him. Tito and I are in the same class so yeah, it would be a honour to face Ortiz one day as he is a legend in the sport.
Bellator has had a major influx of UK talent enter the promotion. What do you think this says about UK MMA and do you think it will lead to an event in the UK?
This means the UK talent sport is only getting better all the time and it is only a matter of time before Bellator has an event in the UK.
Cheers for the time Linton and we look forward to your debut on November 9th.
Thank you. I would like to give a shout out to my fiancé Laura who puts up with me training and cutting weight as I do get moody when hungry lol, to my friends and family for all your support from when I first started to now and to my teammates from Wolflair, Immortal and BST, and my trainers Danny Batten, Lee Edwards, Darren Ward and Sam Tomlin. Also to my great sponsors Soul mate food, Impact, BioX Nutrition, and The Warehouse MK .