UFC Featherweight Champion Jose Aldo spoke with MMAFighting.com on Saturday and responded to the Conor McGregor's recent comments about him and the featherweight division.
McGregor, who spoke on UFC Tonight about Jose Aldo and the rest of the featherweight division, has just two wins inside the octagon. However, he has garnered massive attention — arguable more than the champion himself.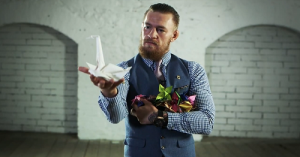 "I'm going to stop Cole," McGregor said on Wednesday. "Whoever's next. Cub [Swanson], I'll break Cub. I'll embarrass Chad [Mendes]. I'll annihilate Jose [Aldo]. I'm coming to takeover the division. It's my division."
Speaking with MMAFighting, Aldo believes McGregor should focus on fighting, and not talking.
"That's normal," Aldo said. "Some fighters like to promote themselves by talking, and he's just another one. I'm open to new challenges and I really hope he gets where he's saying he will, so we can fight and see for sure everything he says. For now, he's only a talker."
Aldo went on to say that he has never seen the Dubliner fight.
"I never watched this guy fight, man," he said. "He only fought once and thinks he's the king. I'm waiting to see him fight again."