#BONESKNOWS, that was the catchphrase for Nike's partnership with UFC champ Jon Jones. Unfortunately, for the MMA star, it is no more. According to Jones Nike pulled their sponsorship of the athlete as a result of his brawl with Daniel Cormier a couple of months ago. This sponsorship was apparently worth six figures and also another unnamed company withdrew their 'six figure' endorsement too.
Jones and DC were both penalized by the NAC for their brawl at the UFC 178 media day. Both fighters will be docked 10% of their purses when they do fight. Jon Jones received the harsher punishment being forced to pay $50,000 in addition to doing 40 hours of community service.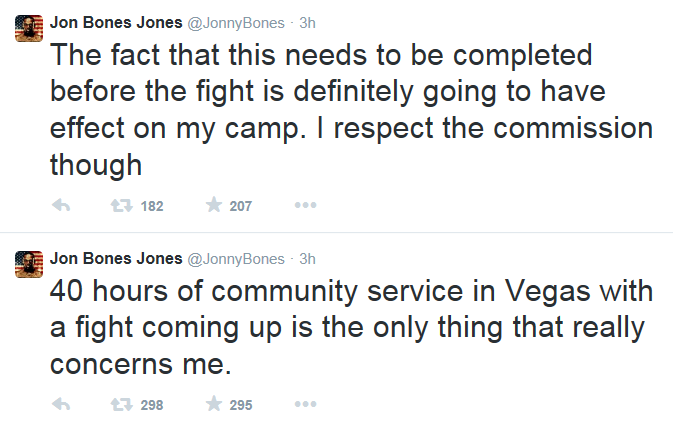 Many will feel DC got away with a slap on the wrists in comparison with his $9,000 fine and 20 hours community service. The Olympic wrestler pleaded his innocence saying he was acting in self defence but this dismissed by the committee. They did feel however that Jon Jones was more of the instigator of the incident and thus warranted a harsher repercussions.
"I do believe that there is a disparity in culpability in this particular circumstance," said NAC Commissioner Pat Lundvall. "It feels different from Mr. Cormier's perspective. And I acknowledge the argument that his council made in that regard. I don't think that he is at the same level as Mr. Jones, but I don't think that he is completely without fault."
The pair will square off on January 3rd at UFC 182.