Yesterday saw Dutch heavyweight Rico Verhoeven successfully defend his title when faced rival Errol Zimmerman in the main event of GLORY 19. It was a stacked card featuring, as always, some of the best and most exciting kickboxers on the planet.
The card was so good that it drew the attention of former WCW/WWE wrestler and former EliteXC commentator Bill Goldberg. The 48-year-old tweeted to two of the gyms he trains at, American Top Team & Extreme Power Gym, if they were going to watch.
GLORY replied to Goldberg and thanked him for his support and after a bit of back and forth between the two their executive director cheekily asked (via their twitter) if Goldberg would ever consider taking a fight in GLORY. Surprisingly the 6-foot-4-inch beast seemed like he would be game ball.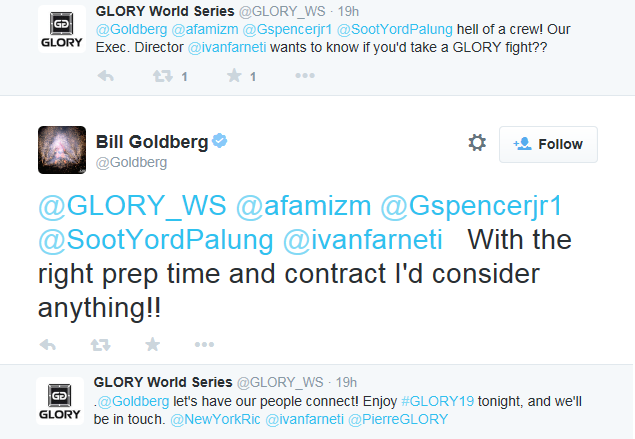 Alan's Angle: As stated above, Goldberg has been a long-time MMA and combat sports enthusiast and has been training in that area for a number of years now in legit gyms like, most recently, American Top Team. He is 48-years-old but no doubt GLORY could match him with the right opponent that would make for a compelling fight and one that would certainly appeal to the casual combat sports fan. Maybe this could be that little kickstart GLORY need, and certainly deserve, to improve awareness of their product.
In a recent interview with our friends over at Submission Radio, when asked whether Goldberg has considered fighting he replied:
"Abs-damn-lutely! That is in the back of my mind and it has been for the past couple of months," he said. "My body is torn to shreds but I continue to have that desire to compete."
Click the link above to check that interview out. Goldberg talks about him doing Muay Thai, not doing much BJJ, UFC, Pride, CM Punk and so much more.