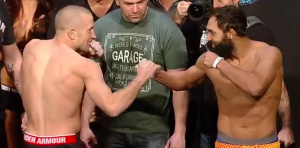 UFC 167 was going so well. Rashad Evans returned to form. Robbie Lawlor beat the odds and upset Rory MacDonald. Tyron Woodley knocked out Josh Koscheck in devastating fashion. It was going so well, until Bruce Buffer read the judges' scorecards for the main event – then things took a turn for the worst. However, although I scored the bout for Hendricks in both my viewings, it wasn't the worst decision I have seen – by a longshot.
Observing a fight as a fan is a completely different experience to observing one as a judge, for a number of reasons. Judges can't necessarily enjoy a face-punching contest in the way in which we do. This is because they need to bottle their emotions and excitement to be in the right mind-set to make a fair and correct judgement.
Watching the bout on Saturday night I had scored it for Hendricks – and I was just as surprised as everybody when I heard the decision. Twitter was flooded with outrage, as was Facebook. Dana White was particularly upset, calling for the governor of Nevada to intervene.
A second viewing was needed.
On Monday morning I woke up, made a cup of coffee, and sat down to once again indulge myself in the 25 minutes of action. This time with no broadcast commentary, no beer, and no pent up excitement. However, the result was the same. Hendricks was my winner. But the margin by which he won was smaller than I first believed.
Ultimately the fight came down to the first round for me. The judges seemed to agree, with the first round being the decider on their cards also. Two judges saw the first round going to St. Pierre, while the other judge saw it going to the challenger; it's the latter judge who I tend to agree with.
To be completely clear, the scoring of a victory for St. Pierre is only conceivable under the system in place – the 10 point must system. Under alternative judging systems, like the PRIDE system where fights were judges as a whole, Hendricks was clear winner. This fight is an example of how the 10 point must system, a system borrowed from boxing, is limited in its effectiveness for judging mixed martial arts contests.
Sure, I still believe that the decision was the wrong one, even within the confines of the 10 point must system. I also still believe that Nevada have problems that have yet to be addressed by the commissioner. It has been a hotbed for bad decisions in mixed martial arts, and indeed in boxing, over the last few years. And it's about time these issues were addressed.
However, some of the criticisms surrounding the fight have been slightly over the top. Many fans have branded the fight as "the biggest robbery ever". A familiar phrase, but I would like to believe this is somewhat of an overreaction.
However, I do get it. As human-beings we are obsessed with the "ever". We even keep books that compile obscure world records, like the person with the longest fingernails of all time. It fascinates us. In the fight game we have a similar need. We need to know who the best fighter ever was. We need to know what the best fight ever was.
That's why it isn't surprising when people bring up "the biggest robbery ever" after a bad decision. But looking back at the recent past, there have been far bigger robberies than last Saturday night. Staying in Vegas, we can pick out the Nam Phan vs. Leonard Garcia bout from The Ultimate Fighter 12 Finale. It was a one sided beat-down for three rounds –with Phan almost doubling Garcia's the significant strikes. It was a fight in which Phan clearly took every round.
What makes this fight seem like such an injustice was the stakes. In a championship bout featuring one of the greatest fighters ever there is an emotional investment. It's something that doesn't come with fights like Nam Phan vs. Leonard Garcia. Consequently when a bad decision taints that championship fight, fans react with much more purpose.
It's unfortunate for Johny Hendricks. But after a second viewing it's not exceptionally ludicrous that St. Pierre was awarded the decision under the 10 point must system – even if I disagree with it. What happens next is anyone's guess – but if GSP returns for a rematch with Hendricks, expect Hendricks to do everything in his power to avoid the judges' scorecards.