With BAMMA 22 now in the books we can look back at some of the fine performances from the event. Amongst them was Dylan Tuke's (1-0) excellent debut showing against a very game Adam Caffrey (0-1). The SBG product didn't put a step wrong in his first professional outing and ended up with a first round submission win.
It seems this win has filled the youngster full of confidence as he wants to face one of Irish MMA's most experienced bantamweights in Alan Philpott (14-7), who also got a win at BAMMA 22. Tuke stated post-fight that he'd like to fight Philpott but things got turned up a notch over the weekend as the two engaged in a bit of a twitter spat.
Prodded by a Tuke fan who asked whether or not he'll fight him or not, Philpott responded and things kicked off.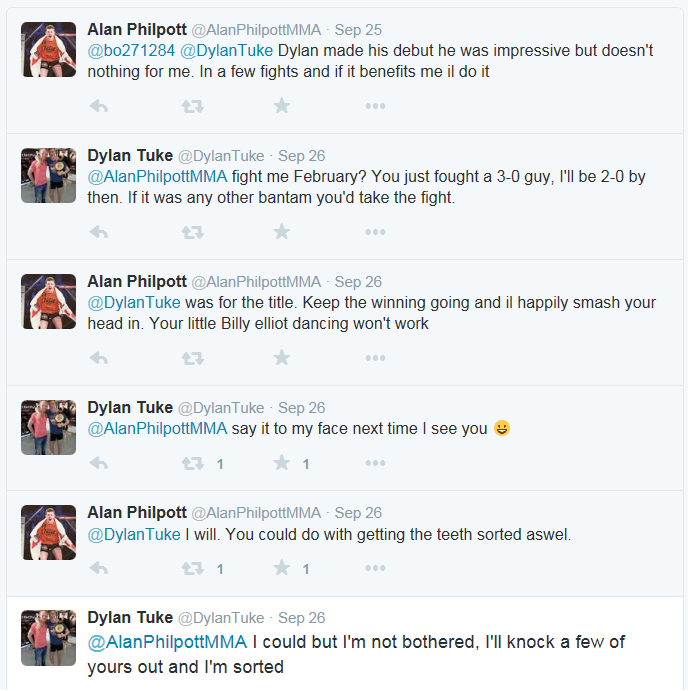 Alan's Angle: Philpott makes sense, he gains nothing from fighting Tuke yet. In his past two fights he fought for the BAMMA title and then was scheduled to fight for the Lonsdale title at BAMMA 22 before missing weight ruled that out for him. Tuke just made his debut and is starting his MMA journey. Although Tuke made a good point about Philpott's BAMMA 22 opponent being just 3-0 it was a title fight made by the BAMMA matchmaker. This is certainly a fight to make down the line.