From the shocking Gracie challenge of the early to mid 20th century, when Gracie family members and their pupils would publicly call out fighters from other martial arts just to display their self-confidence and ultimate supremacy of their art, to the widely spread cross-training we see nowadays, from the old Vale-Tudo times, when the rule was literally "Anything Goes", to the regulated combats of the present, Brazilian MMA has come a long way.
Once seen as brawlers and knuckleheads by the general public, Brazilian fighters have overcome the prejudice and lack of martial arts knowledge and its philosophy, to finally become national heroes. The real pioneers and true icons from the past, although reached a fair deal of fame, perhaps never had the chance to experience the demigod status we can arguably attribute to the likes of Wanderlei Silva, Rodrigo "Minotauro" Nogueira and Anderson Silva.
Ever since the UFC's creation and development during the 1990's, when the skinny Royce Gracie proved the efficiency of his family's art to the world, all the way through when Marco Ruas introduced the importance of cross-training just a couple of years down the road, (something that would chance the style vs. style motto forever), the still then called "Vale-Tudo" only got more and more attention. And then, there was Pride F.C. in Japan. Topping any of the previous MMA promotions in the land of the rising sun by a large margin, Pride F.C. put together super-productions that took fighting shows to the next level, raising its popularity through the roof in the historically martial-arts loving country. Their first show was starred by one of the most mysterious figures in the history of fighting, the gifted, Rickson Gracie. Brazilian fighters were everywhere.
Meanwhile, fans here were getting increasingly interested in this new sport in which their compatriots were striving in foreign lands, carrying the Brazilian flag on their shoulders and experiencing huge success.
Local promoters also wanted to ride this wave and a number of shows started popping around Brazil. Throughout the years, IVC (International Vale-Tudo Championships) of former Kickboxing World Champion, Sergio Batarelli, in Sao Paulo, Curitiba's Meca, the infamous Rio Heroes, just to name a few… all had their moments of good popularity, but ended up closing up shop eventually. However, a great deal of soon to be stars have tried their luck in Brazilian rings or cages early in their careers. Anderson Silva, Chuck Liddell, Kevin Randleman, Wanderlei Silva, Mark Kerr, are all among that group.
The scenario here still looks promising these days. According to multiple sources, MMA rating numbers are getting more impressive every year. UFC is, of course, the greatest star. Their events are scoring selling out crowds all over the country and Combate Channel, the pay-per-view channel broadcasting the UFC and every other program and content related to it, such as the weigh-ins, TUF and UFC Series, as well as local shows, has been experiencing a steady growth in its subscribers base for several years now. Under these circumstances, Dana White has already revealed his plans of raising the number of events per year in Brazil.
Currently, several local promotions are putting together MMA events around the country almost every week. Only a few stand out from the crowd though, namely Jungle Fight, Bitetti Combat and Shooto Brasil. Former professional fighter, and now Jungle Fight head, Wallid Ismail, is celebrating his tenth year of being the national promotion to send more of their former fighters to the UFC and other international shows.
Making its case as a well respected organization is Max Sport, which has been able to guarantee very good ratings with the strategy of broadcasting online, through the Terra web site. What they decided to do was to try a different approach as opposed to a TV deal and that seems to have worked well for them. Thiago Lobo, one of the owners of Twice 360, the agency producing Max Sport events, says that the viewership figures are very appealing to potential advertisers.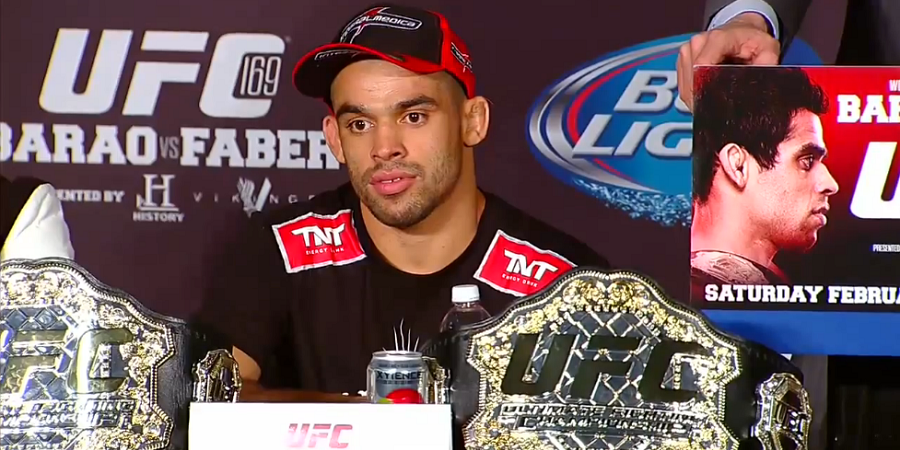 Those figures are still to be translated into a fair number of partners and sponsors for the company. Even though the sport of MMA only grows in Brazil, the culture here is that Football gets the largest chunk of sponsorship and advertising money. There is hope though, as a few brave and innovative companies have already awakened for the world of opportunities coming along with the kind of following MMA events are able to attract. A very broad audience of men and women, basically of all ages. So, the strategy to make Max Sport succeed is to target a qualified audience, promoting their product to a more diverse crowd as opposed to what is perceived as the prototype of the MMA fan. To make sure they are able to deliver, investing in their roster and putting on quality fights is critical. Max Sport 13.2 featured a bout between the Sao Paulo legend Jorge "Macaco" Patino and the also former UFC fighter Efrain Escudero, when Macaco won a very narrow decision. Escudero was cornered by Ben Henderson that night.
Already a well established brand in the U.S., Florida based XFC is now eyeing global expansion and, according to Myron Molotky, President of XFC International, their choice for Brazil to begin the journey was obvious: "The rich history and immense wealth of talent that has been exposed in Brazil and the rest of Latin America helped create a very attractive business model."
XFC is making a strong push to become a well recognized promotion in Brazil. Their first ever show outside of the United States took place last February in the city of Osasco, just outside Sao Paulo. It was aired live by open TV channel, Rede TV!, the same channel that once broadcasted UFC events, which helped Zuffa's organization raise their popularity here a great deal. Now with the UFC being aired on PPV only, except for undercard fights that can be watched on cable, the chance was there for a serious organization to fulfill that gap.
XFC was already able to bring important sponsors and advertisers for that first show and being aired on open TV surely played a big part in closing those deals. As for this commercial aspect, Molotky explains: "Our partnerships in Latin America believe in our product and have supported this movement from the beginning. Open TV creates value that is making XFC a desired product for sponsors and other commercial opportunities. Less than 20% of Latin America receives cable (or satellite) tv, so we are very fortunate to have an Open TV channel like REDE TV! that has the ability to reach millions of viewers on our show, XFC, and tens of millions during our live events."
Their positioning is to give young, or simply unknown, but still talented fighters, a chance to display their skills. Still according to Myron Molotky, XFC is committed to make those men's dreams a reality. And, finding fighters has not been an issue for them: "There are many hoping to be involved in future opportunities with XFC INTERNATIONAL. The word has already hit the street after XFCi 1, how well the fighters have been treated. Our mission is to create a culture where mutual respect between the fighter and promotion makes XFC a desired destination for the future champions that will be introduced through XFC to the world."
A testament of that commitment is the fact that XFC INTERNATIONAL is running frequent tryouts as they will have ten events around the globe in 2014, with further expansion already in the works in 2015 and beyond.
With that level of interest and with professionalism being the rule at the Brazilian market, an incredible number of gems will keep being discovered here and the Brazilian crowd will have plenty to be entertained by for a long, long time.