Though he retired earlier this year, Bob Sapp is headlining an 'exhibition' of pro-wrestlers and martial artists in North Korea this weekend. The event will take place over two days in a 15,000-seat arena and will act as an event to create a diplomatic bond between North Korea and Japan.
The event is the brainchild of Antonio Inoki, a former pro-wrestler turned promoter turned parliamentarian, who has deep connections with North Korea. It is not considered that the event is condoned or supported by the Japanese government.
The particulars of the event such as what input/role Bob Sapp will have is still relatively unknown. But one thing for certain is being an American and headlining an event in North Korea is somewhat of a career achievement for 'The Beast'.
Dennis Rodman made headlines after he put on a basketball exhibition match in the state with a host of former NBA players. However he was slammed by the American media after it was considered a publicity stunt by the North Korean government. Soon after Rodman apologized publicly and went to rehab.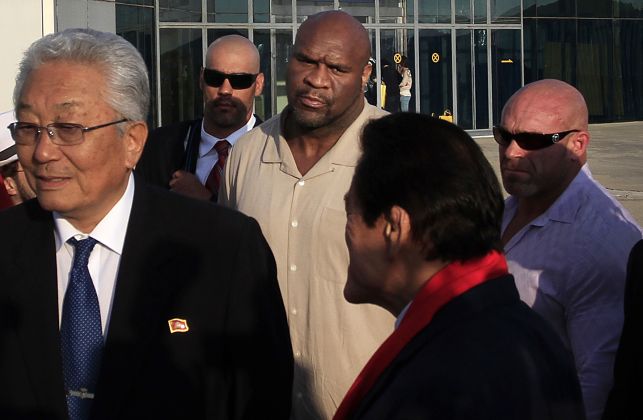 'The Beast' however says he is aware of the Rodman situation and but when questioned about North Korean policies and whether their dictator Kim Jong Un will be in attendance he replied, "I have no idea what any of that stuff is, and for me, it's quite simple. I am there to bring entertainment."
But at least he himself is enjoying and relishing visiting North Korea and he recognizes how crazy the whole thing is.
"This is the No. 1 unusual and a little bit crazy thing (I've ever done)," Sapp said in an interview. "I've done everything from the NFL, pro wrestling, movies, I made the cover of Time magazine, done all types of commercials and now I'm going to North Korea. You name it, I've done it."