When BAMMA announced that their expected June return to Irish soil would be postponed until September, the disappointment among the MMA community in Ireland was practically palpable. That same delay, however, has opened the floodgates for a wave of fighters – from North and South – to land themselves on the card and into the spotlight.
A Bumpy Road in the Right Direction
The decision to delay the event was deemed a necessary step by the vast majority of the mixed martial arts community in the country, despite the understandable disappointment. It was rescheduled as a means to implement new medical standards introduced in Ireland following the tragic death of Joao Carvalho at a Dublin MMA event in April.
Although change can certainly bring opportunity, it also creates disruption. This case was no different. With an extensive list of major changes to the recommended rules and regulations with regards to health and safety, many events in the country were postponed or entirely cancelled leaving fighters with scarce opportunities to ply their trade.
The delay of this event in particular was an undoubted blow for the fighters originally scheduled for June 4th, especially for the likes of Chris Fields who has found himself a cosy home within the organisation. Akin to that, the promotion itself has appeared to have found a second home of sorts in the Irish capital.
Following two successful outings in Dublin's 3Arena with BAMMA 22 and BAMMA 24, they were ready to rush back to Irish shores, and when challenged with a change of date along with an increase in standards they remained committed to their return.
An Event Already Brimming with Local Talent
The September fight card has had a reshuffling of the pack since June, however, many of the names originally scheduled have remained booked, albeit with fresh opponents. There have been a few notable and significant changes, though. The headlining act fell through, with Paul "Bearjew" Craig sustaining an injury in training, leaving Chris Fields without an opponent. Phillip Mulpeter sustained an injury ruling him out his scheduled bout. James Gallagher made the permanent move to Bellator MMA in the meantime leading to his withdrawal. And Dylan Tuke was forced to remove himself from the card citing a hand injury.
There are still three title fights on the card, two of which have carried over from June. The original light heavyweight title main event has been replaced with a middleweight championship fight between champion John Phillips, who brings some Irish interest with his links to SBG Ireland, and Andy DeVent. Andy "Taz" Young retains his position on the card when he fights Rany Saadeh in flyweight title showdown. Finally, Young's teammate and fellow Northern Ireland native Alan "The Apprentice" Philpott is still scheduled to defend his BAMMA Lonsdale Bantamweight title against Aaron 'Smackwell' Blackwell.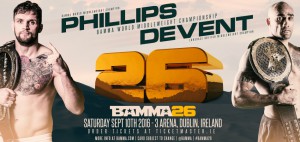 Outside of the title-picture, the card heavily featured an assortment of Irish talent, with both prospects and veterans included. Fortunately, most of those contests have endured.
Following his release from the Ultimate Fighting Championship, Team Ryano's Paul Redmond remains primed to make his long-awaited BAMMA debut, albeit against a different opponent in Chris Stringer. Fan-favourite John "Johnny-Jitsu" Redmond remains on the card against Glenn Irvine — in a fight which is generating a lot of buzz on social media. Keith "The Butcher" McCabe also faces Aiden Brooks.
While he was not officially revealed by the organisation until after the event's rescheduling, the inclusion of prospect Ryan Curtis was expected and reported prior to his official addition, and that hasn't changed. The Dubliner, who has been under the tutelage of Owen Roddy from the beginning, will fight in Ireland – just a stone's throw away from his Dublin City home – for the first time in his perfect 3-0 professional career. It's surely a dream come true for the hometown prospect.
A Change Presents Opportunity
Akin to the addition of Ryan Curtis – being booked but not officially announced until later – we don't know who else was lined up for the June event before it was rescheduled. But based on BAMMA's apparent gradual fight announcement strategy, it's likely that some of the names later announced were already tipped to compete.
However, it's unlikely that we would have seen such a substantial bunch of names added to the card had it taken place in its original slot.
Nevertheless, it undoubtedly presented a great opportunity for many of the best fighters from the North and South. Certain names will instantly leap off the page for followers of the sport in Ireland like Rhys McKee, Sinead Kavanagh and Peter Queally. The trio are no strangers to BAMMA having competed in the promotion previously.
McKee – a rising star on the regional scene – is now 3-0 with three finishes in his short professional career to date. Known as "Skeletor", he joins his Next-Gen N.I teammates Mark Andrew, Andy Young, and champion Alan Philpott on the card.
Peter Queally and Sinead Kavanagh are teammates fighting under John Kavanagh at the renowned Straight Blast Gym Ireland. Queally, who is a constant in Conor McGregor training camps, is certainly one to watch. Boasting an 8-2 career, he is touted as one of the leading candidates to be sourced by the one of the leading international promotions like the UFC. He faces Northern Ireland's Joe McColgan, years after they were originally tipped to fight. Kavanagh, on the other hand, is still relatively young in her mixed martial arts career, but has gained plenty of momentum since she has transitioned from amateur boxing.
However, those are just three of the names – the tip of the iceberg. The opportunity opened the door for many more.
It shouldn't be overly surprising now that such a relatively small island enjoys such a supply of talent either. This was highlighted by the IMMAF World Championships held in Las Vegas during International Fight Week this year. Team Republic of Ireland earned an impressive six medals – the most among competing nations – with Northern Ireland achieving a respectable two, including one coveted Gold.
One of the success stories of the tournament was "Yogurty" Dave Fogarty. He captured a silver medal for the Republic of Ireland and evidently caught BAMMA's eye, as shortly after the tournament wrapped he found himself on the Dublin card.
Other notables who have found themselves on the card since the change include Brian Moore, Charlie Ward, Gary Morris, Darren O'Gorman, Ritchie Smullen and Andrew Murphy.
It was full to the brim in June, now it's overflowing.