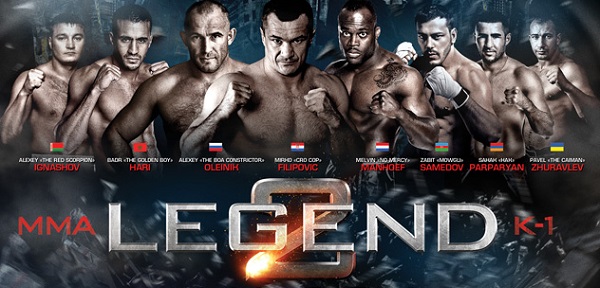 Just in case you missed it, there's a new combat sports promotion in town and it's called Legend Fighting Show. The inaugural event occurred on May 25, 2013, Legend then came back for round 2 with a star studded event, titled Part 2: Invasion. Featuring the likes of Badr Hari, Melvin Manhoef, Cro Cop, Paul Daley and Andrei Stoica. Legend 2 was held on November 8, 2013 at the Luzhniki Minor Sports Arena in Moscow.
Featuring a mix of MMA and K -1 style bouts consistent with its counterparts, Legend 2 hosted a K -1 style 93kg tourney pitting Zabit Samedov against Melvin Manhoef and Sahak Parparyan against Pavel Zhuravlev.
With the potential for excitement in the tourney by the likes of Semtex Daley, the likely question in the minds of most was 'is Badr Hari back?' If any of you have followed the saga of Badr Hari, you will know that his last couple of years have been tumultuous to say the least. In the span of two years Badr has retired from kickboxing to pursue a boxing career, been accused of numerous assaults and been incarcerated. Additionally, he has been accused of abusing various performance enhancing drugs. With his legal woes not quite resolved, Badr stated prior to the bout that he is back both mentally and physically and ready to take on Ignashov. The match on November 8th was not the first meeting of these two power punchers. In 2003, Hari suffered a third round KO loss to Ignashov at It's Showtime 2003. Hari came back to avenge that loss in 2010 with a unanimous decision victory over Ignashov at the 2010 K-1 WGP K-1 fighters.
Round one began with the men tenatively feeling each other out. Ignashov struck first but stayed mainly on the defensive. Late in the first round as well as in round two there were flashes of the old Badr with Badr chasing down Ignashov with a combo of punches and kicks. Round three was much of the same, limited engagement between the two fighters leading to a very safe unanimous decision for Hari. So we return to the original question as to whether Badr Hari is back? Well he's back in the ring but whether he is the fighter he once was remains to be seen.