Remember when you were a kid and you would count the days left until Christmas? But now as adults we usually have very little moments to count down to with such excitement. Anderson Silva vs. Nick Diaz on January 31st is one of those moments, well for me at least.
It is exactly 114 days (16 weeks, 2 days) from today that we will get to see the return of 'The Spider' and what makes it much better is that it will be against Nick Diaz, a fight many regard as a 'Super Fight'.
Silva has changed his tone over the months since his horrific injury when it comes to his return. He had previously said that he is not aiming for a title shot or a third fight with champ Chris Weidman. According to MMAFighting.com that has all changed.
"I think about fighting for the title again, of course. I have seven fights left in my contract and, if I have a chance to fight for the title again, I will fight."
I will fight the fights I have left in my contract and, if I earn a chance to fight for the title one day, against (Weidman) or not, I will be happy," he said.
But without getting too far ahead of himself he talked about his upcoming fight with Diaz, which I should remind you is just 114 days away.
"I'm really excited. It's my comeback, I have to be excited," Silva said. "I'm training a lot, really happy with everything that is happening. Nick Diaz is a tough guy. He fights really well, has a great physical condition and a great technique, so it's going to be a nice fight.
"If Nick does a clean fight, if he fights standing without stalling, we'll do a spectacular fight," he added. "Nick has a great boxing and it's going to be a fantastic fight. Every UFC fan will like it."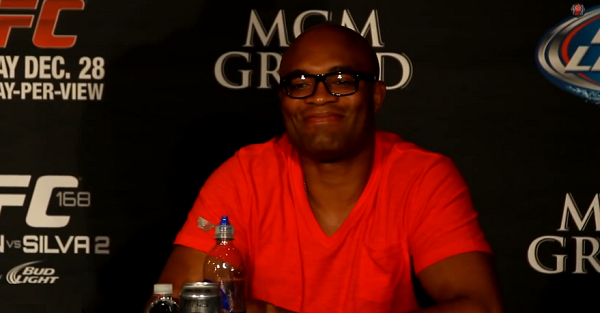 Alan's Angle: I like, no scrap that, I love this matchup with Diaz. I simply cannot wait for it. However, I am not sure about Silva fighting seven more times. He is 39-years-old and by the time he fights he will be just shy of his 40th birthday. Not only is he growing old but he is coming off such a bad injury and who knows what type of effect that will have on his body and mind.
I have to be a cynic of things and remind everyone of BJ Penn's disastrous return. There is a chance that will happen with Silva too. I say let us get through this fight before thinking about future fights. Hopefully we get 'The Spider' we all remember and the fight becomes an all time classic that elevates Silva and Diaz once more.