South African MMA fighter Booto Guylain (pictured below) suffered a serious head injury last night during his fight with Keron Davies at EFC Africa 27 in Johannesburg and is now currently in ICU. It was just his second professional outing after losing his debut fight at EFC Africa 25 last November via KO.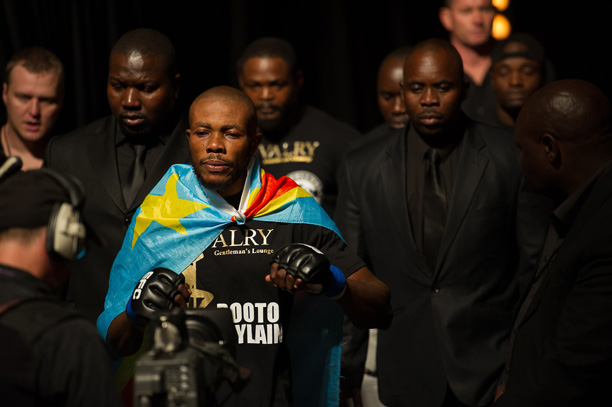 The EFC Africa website stated that: "After undergoing tests and scans Guylain is being treated for swelling and bleeding on the brain by the neuro-surgical team at Johannesburg General Hospital."
"His condition at the moment is critical and we are following his progress closely. Our thoughts are with him and his family," said EFC AFRICA president Cairo Howarth.
Graeme Cartmell, who is the promotion's matchmaker, just tweeted that the fighter is stable yet critical.

Alan's Angle: This is terribly sad news. Thoughts and prayers are with Booto and his friends and family. The fight was stopped by TKO due to elbows. Booto was receiving some pretty hard blows on the bottom. This is one of those freak accidents that can happen while doing anything so I hope it does not fall back on the sport of MMA or EFC Africa the promotion as I have heard nothing but great things about how professional they are in everything they do.
(UPDATE) The EFC Africa twitter announced earlier tonight that Booto had passed away; "It is with deep sadness that we announce that Booto Guylain, father & husband, has passed away. Our thoughts are with his family."