I don't think anyone has accused UFC Fight Night 62 of being a great card, because, unfortunately, it's just not. The prospect does excite me though, but it's not a particular fight that necessarily excites me; it's the event's by-products.
Sure, there is a smattering of interesting fights, especially from a pure sporting perspective. However, it's the lack of stakes and, to be completely frank, elite level talent that makes the card seem bland.
However, it's by-products of this card that excites me. It seems like the Ultimate Fighting Championship has finally found their formula. They have seemed to have found their booking sweet spot, and it's evident by looking at this event compared to their last showcase on pay-per-view.
UFC Fight Night 62, as mentioned, isn't anything special. I like the main event. It's an interesting bout between a guy with some untapped potential in Ryan LaFlare and a former title challenger looking to get back into the conversation in Demian Maia. The rest of the card is sprinkled with some potentially fun fights, and, unfortunately, some rather uninspired ones. But for a free televised show it isn't a bad way to spend your afternoon, or the early hours of your morning for us unfortunate Europeans.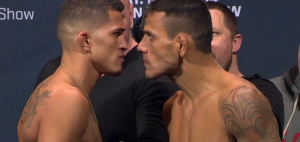 Then you had UFC 185; the pay per view which cost up to $59.95 in the US for a high definition broadcast; it should be a better card, right? It was. Two title fights including Anthony Pettis defending his crown against Rafael dos Anjos; the first ever women's strawweight championship defense; and ancillary bouts which featured the likes of Johnny Hendricks, Matt Brown, Alistair Overeem and Roy Nelson.
That's the way PPV events should be all the time, right?
Unfortunately, in the past this wasn't the case with the UFC. Many a time, we have seen undeniably sub-par pay per view events, which suffered in quality due to quality fights being spread too thinly over multiple events. There wasn't a distinct structure. However, it looks like there is a structure in place now.
It looks like the UFC understand that they need to load these pay per view events – the big shows – with great fights, unlike the approach they seemed to take recently. The UFC matchmakers started to get comfortable with a more boxing-like card structure by booking a fantastic main event, but accompanied these cards with a lacklustre undercard.
It's easy to understand why they done it. They want to try to give the best product they can to every live crowd. That's commendable. But with so many fights, on so many fights cards, in so many different locations, the ubiquitous debate of mixed martial arts over-saturation is hard to avoid.
The most disconcerting consequence of over-saturation is an inevitable reduction in quality, and I think that, if we are honest with ourselves, we can admit that the UFC's events over the past couple of years have taken a hit in quality. That being said, injuries have been in no small part an issue too, but with the amount of fights that the UFC have to produce to satisfy their ever growing schedule injuries will occur.
However, I look at UFC's last show in Dublin as the definitive benchmark as to what UFC Fight Nights can be. The card wasn't particularly amazing. But for what the event was, it was perfect for the platform it was on and for the live crowd – I was there, I know.
That type of event, which overly satisfied it's intended audience, freed up the prestigious fights for other events, and that's what recent Fight Nights are doing.
Just look at UFC 187 and 189.
That's why I love this event so much. Not because it's anything special, but because it gives it's intended audience a solid show, and in turn facilitates the UFC to give us the upcoming UFC 187 and 189 events. I wouldn't have it any other way.