Ever since UFC commentator Joe Rogan hinted at a future "huge announcement" regarding to Ronda Rousey's next opponent for her 135 pound women's championship, Gina Carano, former boxing champion Holly Holm, and Invicta standout Christiane Santos have all been rumoured. Finally, the former Strikeforce champion turned movie star has addressed the speculation.
Speaking to FOXSports.com, Carano didn't rule out a return to the cage despite her blossoming career in acting.
"I feel like I can't say too much [about recent conversations about a possible return]. I've got all this information that if I could just speak freely, this is actually what's going on. I wish I could open up my mind and tell you exactly the things that I've seen and the conversations that I've had, but I think to sum it up in a nice, safe way for me is if circumstances were right, and if it's a good enough circumstance [I would come back] because my first love is MMA."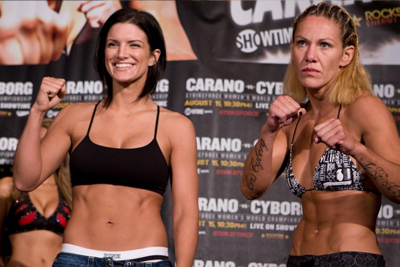 Dana White recently revealed that Gina Carano was indeed still under contract with the UFC's parent company, ZUFFA LLC, and said that he would give Carano a fight in the UFC; however, it's unclear if he would give her the title fight.
The Fast and the Furious star hasn't fought since her losing effort to Christiane Santos in 2009 – which was, at the time, the top rated Strikeforce event for Showtime. Shortly afterwards she announced her indefinite leave from the sport to pursue acting, but she never announced her retirement.
"I've never retired. I've never officially said that. For some reason a part of me has always kept it open. I don't know, there's a certain part of me that thinks if circumstances were right, and I could keep doing what I'm trying to make my future into, that's an ideal world. If circumstances were right, you never know. I'm very open to it."